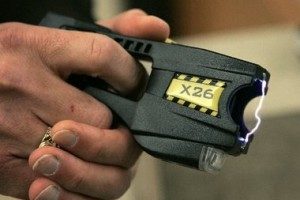 Highlands Police recently used a tenser to subdue a dangerous suspect, for the first time in Monmouth County since the police weapon was approved in 2009, to end a 12 hour long standoff. The incident began hours earlier after police tried stopping the defendant for a motor vehicle violation in Atlantic Highlands and he fled in his car leading police on a car chase thru Middletown and into Highlands.
He was eventually tracked back to his home in Highlands where he refused to surrender and the standoff continued after he proceeded to barricade himself inside his house. The police learned that the defendant owned several guns and called in the Monmouth County Prosecutor's Office's Community Emergency Response Team (CERT) and started telling residents in neighboring apartment units to leave.
As the standoff continued into the early morning hours, members of the CERT tried to persuade the defendant to surrender, but he again refused, and started taunting the officers and threatening to shoot them. Authorities even tried to use a K-9 officer to arrest the defendant but were unsuccessful. It wasn't until 4 a.m., that the defendant emerged from his apartment and that's when police used the Taser to subdue him and take him into custody.
It is unclear but initially caused the defendant to flee the motor vehicle stop but one thing is clear – he is facing some very serious criminal charges for his role in the police case and standoff. As of now, the defendant has been charged with Aggravated Assault of a Police Officer and Eluding a Police Officer. According to police, he could receive additional charges following the investigation. At the very least these charges will be 3rd degree crimes punishable by up to five (5) years in state prison. Anyone charged with an indictable crime such as the ones described within this article should have an experienced Highlands NJ Criminal Lawyer review the facts of their case to pinpoint and develop different defenses to the charges.