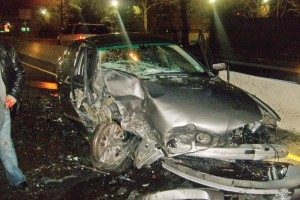 Man Charged with DWI After Four-Vehicle Accident Sends Driver to Hospital
Two people were treated at CentraState Medical Center in Freehold, New Jersey for injuries resulting from a four-vehicle collision on the evening of Tuesday, May 26. Koron Duncan, 25, of Manalapan, was allegedly the driver of a van which failed to observe a red light, colliding with three other cars before Duncan exited his vehicle and attempted to run from the scene of the collision. Duncan was apprehended and arrested. Authorities have also learned that the van Duncan was driving when the collision occurred had been stolen from its owner. A search by police also allegedly yielded marijuana and Drug Paraphernalia in Duncan's possession.
Freehold NJ DWI Charges
As a result of the incident, Duncan is facing multiple charges, including possession of less than 50 grams of marijuana, possession of paraphernalia, DWI, and unlawful taking of the vehicle. For the driving while intoxicated charges, Duncan could be subject to penalties that will depend on the alleged severity of his intoxication as well as whether Duncan has any prior DWI convictions on his record. Potential penalties under N.J.S.A. 39:4-50 could range from a 3 month driver's license suspension, over $700 in fines and fees, a $1,000 insurance surcharge per year for three years, and up to 30 days in prison; to a driver's license suspension of 10 years, an ignition interlock requirement during license suspension and for 1 to 3 years following license restoration, over $1,500 in fines and fees, a $1,500 insurance surcharge per year for three years, and 180 days in prison. A Freehold NJ DWI Lawyer can challenge the State's case against a defendant to try and get the driving while intoxicated dismissed or downgraded.
Freehold NJ Marijuana Possession Penalties
Under N.J.S.A. 2C:35-2, Duncan will also face potential penalties for possession of marijuana, a disorderly persons offense carrying penalties of up to 6 months in jail and a $1,000 fine. Additionaly penalties will apply for possession of drug paraphernalia under N.J.S.A. 2C:36-2, which prohibits possession of items intended to be used to ingest a controlled dangerous substance. This offense is also classified as a disorderly persons offense, carrying penalties of up to 6 months of jail time and fines of up to $1,000, as well as the possibility of a driver's license suspension of 6 months to 2 years.
Further potential penalties apply under N.J.S.A. 2C:20-10 for the unlawful taking of the vehicle which Duncan was driving at the time of the accident. Under this statute, which classifies the unlawful taking as a fourth-degree crime, Duncan could face penalties including jail time of up to three years. The Freehold NJ Municipal Court will oversee this case. The featured image is courtesy of nj.com