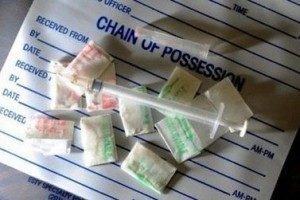 Middletown Police recently arrested a Freehold woman on various charges including Possession of Heroin, Prescription Drugs, and drug paraphernalia, as well as Aggravated Assault on a Police Officer.
Under N.J.S.A. 2C:35-10, the defendant could be facing serious penalties for possession of heroin, which is a third-degree crime. Under New Jersey law, this offense carries penalties of up to 5 years in jail, fines of up to $35,000, and a mandatory 6 month suspension of the offender's driver's license. A Middletown NJ Criminal Defense Attorney can offer various defenses to the charges. Depending on the amount of heroin allegedly found in the suspect's possession, the fine imposed could escalate to even higher dollar amounts. If the amount of heroin exceeded half an ounce, she could also be charged with a second-degree crime, which would carry even steeper penalties including 5-10 years of jail time. For amounts greater than five ounces, offenders may be charged with a first-degree crime, carrying penalties of 10-20 years of jail time and a fine of up to $500,000. Additional penalties could also apply under N.J.S.A. 2C:35-10.5 for possession of prescription drugs, including potential jail time of 6 months, a penalty which could potentially increase if she possessed large quantities of the alleged prescription drugs or is found to have intended to distribute those drugs.
Monmouth County Drug Offense Penalties
Under N.J.S.A. 2C:36-2, additional penalties could be imposed for possession of drug paraphernalia, including up to 6 months of jail time, fines of up to $1,000, and a potential driver's license suspension of 6 months to 2 years.
In connection with the assault charges, under N.J.S.A. 2C:12-1, the suspect will be facing potential penalties for an offense which is escalated to aggravated assault under N.J.S.A. 2C:12-1b because the victim of the assault was a police officer. It is unclear whether the defendant is alleged to have caused any substantial harm to the officer involved in the charged assault. If she is alleged to have purposely or knowingly caused any significant injury to the officer involved in the incident, then this offense will be considered a fourth degree crime, carrying serious penalties of up to 18 months' jail time as well as fines of up to $10,000.