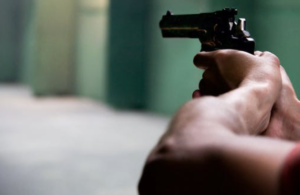 Monmouth County First Degree Robbery Defense Lawyers
On Sunday, February 11th, two men invaded the home of an Aberdeen resident. During the incident shots were fired, resulting in a non-life-threatening injury to the Aberdeen resident. Shortly thereafter, two men were arrested in connection with the crime – 22-year-old Christopher Allen, and 27-year-old Gregory Greenidge-Shepherd. It appears that one of the suspects had some relationship with the Aberdeen resident, but the facts regarding the relationship are unclear.
The Monmouth County Prosecutor's Office reported that both suspects face multiple charges. Those charges include first-degree armed robbery and unlawful possession of a firearm.
This incident was particularly harrowing for residents in the Cliffwood Beach section of Aberdeen because of the shots fired. That is what prompted a 911 call from a neighbor to the Aberdeen Police. Nothing was taken from the home.
A Primer on Robbery and Unlawful Possession of a Weapon
People often confuse Robbery and Theft, or use them synonymously. They are actually different crimes, but related. Theft is stealing something from someone. Robbery is stealing something from someone with a threat or use of violence. So, if you take someone's wallet without them knowing, as a pickpocket would do, you have committed Theft. However, if you pointed a gun at someone to get him to give you his wallet, then you have committed Robbery.
New Jersey statute N.J.S.A. 2C:15-1 covers the crime of Robbery. Under that statute, you would be guilty of Robbery if you inflict bodily injury, use force upon someone, or threaten someone with violence during the course of a theft. Simply put, Robbery is Theft plus the use or threat of violence. Robbery is typically charged as a Second-Degree crime, which means a possible 5 to 10 years in prison and a $150,000 fine. However, a Robbery will be charged as a First-Degree offense if during the course of the theft you:
Attempt to kill a person
Inflict serious bodily injury on a person, or
Use or threaten a person with a deadly weapon
A First-Degree Robbery conviction could result in a 10 to 20 year prison sentence.
Applying the law to the Aberdeen case above, it is now clear why Allen and Greenidge-Shepherd were charged with First-Degree Robbery. The facts appear to reveal that they invaded a home with the intent on committing a theft, and during that theft they "used a deadly weapon," may have "inflicted serious bodily injury" on the Aberdeen resident, and even may have "attempted to kill" the resident. Accordingly, it appears that the First-Degree Robbery charge applies.
Unlawful Possession of a Weapon
In the case above, because a gun was used, the suspects were likely charged under the Unlawful Possession of Weapons charge at New Jersey statute N.J.S.A. 2C:39-5. That statute makes it illegal to possess any type of firearm without a permit or license. The statute covers machine guns, handguns, rifles, and shotguns. Specifically, unlawful possession of a machine gun is a Second-Degree offense, whereas unlawful possession of a handgun is a Third-Degree offense, which could lead to 3 to 5 years in prison upon conviction.
One other weapons offense to keep in mind is at N.J.S.A. 2C:39-4, titled Possession of Weapons for Unlawful Purposes. That statute makes it illegal for a person to possess any weapon with the purpose to use it unlawfully against another. It is important to note that the term "weapon" in this statute is rather broad. While the statute covers firearms, explosives, and destructive devices, it also includes any object that can be used to cause death or serious bodily injury. Thus, a baseball bat or brick can fall under N.J.S.A. 2C:39-4.
Monmouth County Attorneys Can Defend You Against Robbery and Weapons Charges
If you have been charged with Robbery or Weapons Possession charges, you need an attorney who is an expert in defending people against such serious offenses. Indeed, Robbery and Weapons offenses carry substantial prison time upon conviction, which will undoubtedly impact your family and your life. Contact The Law Offices of Jonathan F. Marshall for a free consultation. Marshall Firm attorneys have represented thousands of clients facing Robbery charges. They have the experience and dedication to mount an aggressive defense on your behalf. Call our Freehold office today at 732-462-1197.