Aberdeen NJ Criminal & DWI Lawyers
Aberdeen is a diverse Monmouth County Community that has gained much of its popularity because of its accessibility to and from New York City. Whether you are a commuter or had some other reason for being Aberdeen Township, there are serious ramifications if you are convicted of the criminal, DWI/DUI or traffic violation you are facing. You will be left with a criminal record upon pleading or being found guilty for a disorderly persons offense and also be subject to significant financial consequences. You could even be required to serve up to six months in the county jail. A DWI or other serious motor vehicle offense also carries potent penalties, including a mandatory driver's license suspension of up one year for even a first offense. The penalties, including a minimum jail sentence and thousands of dollars in fines, assessments and other costs, are worse if this is your second offense, third offense or more.
Former Prosecutors & Skilled Defense Attorneys To Defend You In Aberdeen Township
There is no question in our mind that the best thing you can do to protect yourself from a negative outcome on your charge is to hire an experienced criminal attorney. At our firm, The Law Offices of Jonathan F. Marshall, we feature a staff that includes several former prosecutors from the area, represents the largest defense firm in Monmouth County, and which possesses over 100 years of experience combined. Mr. Marshall actually grew up in the town, was the regular prosecutor in the adjacent towns of Matawan and Hazlet, and even served as fill-in prosecutor in Aberdeen Municipal Court in the past. The attorneys at our firm are knowledgeable and experienced in defending Aberdeen driving under the influence of drugs and alcohol cases as well as whatever other traffic or criminal case you may be charged with. Call our lawyers 24/7 at 732-450-8300 for an immediate free consultation.
Aberdeen Municipal Court Information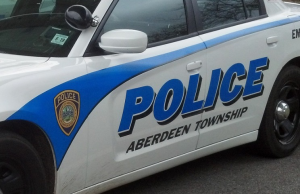 If you were arrested or charged with a disorderly persons offense like simple assault, marijuana possession, disorderly conduct or shoplifting, your offense will be decided in Aberdeen Municipal Court. The same is true if you were issued a traffic summons or ticket for DWI, DUI or another motor vehicle charge. The Aberdeen Municipal Court is located at One Aberdeen Square, Aberdeen New Jersey 07747. The Court Administrator, Michele T. Wieczoreck, CMCA, and the other members of her staff can be reached weekdays from 8:30 a.m. to 4:00 p.m. at (732) 583-4200 ext. 105 & 141. The Aberdeen Municipal Court conducts arraignments, trials and other hearings once a week on Wednesday at 8:30 a.m. The judge that presides over all proceedings is the Honorable Michael Pugliese.
Charges in Aberdeen NJ
Given that the Garden State Parkway and the New Jersey Transit Train Station are located in the town, there are other law enforcement agencies beyond the Aberdeen Police Department who have their charges heard in Aberdeen Municipal Court. The New Jersey State Police patrol that portion of the Parkway falling within the township, as do NJ Transit Police in terms of alleged violations at the railroad station and/or on the train. The result is relatively higher figures than you might expect for criminal offenses and traffic violations like driving while suspended, reckless driving, operating without insurance and leaving the scene of an accident. There were 5,070 summonses issued for moving traffic charges issued by these agencies for the twelve months ending June 2014. Arrests for felony crimes, which would have to be handled at the Monmouth County Superior Court, were however very low during this period with 179 complaints filed. Misdemeanor charges in Aberdeen fell in the middle with a total of 597 issued.
Aberdeen New Jersey Criminal Lawyer
Irrespective of whether you were arrested on the Parkway, while sitting in the train station, or driving down Route 34 or Route 35, charges in Aberdeen have the potential to serious affect your life. For this reason, it is important that you do everything possible to avert a conviction. This is good reason to contact our firm as we are successful in most cases in Aberdeen Municipal Court. A lawyer at our criminal office is available 24/7 to assist you and the consultation is free.