Charged With Disorderly Conduct, Simple Assault, DWI, Marijuana Possession or Another Offense in Avon New Jersey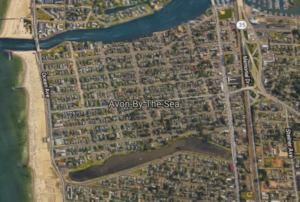 Call The Former Monmouth County Prosecutors At Our Firm For Skilled Defense To Your Avon Criminal or Traffic Charges
Avon by the Sea is a small shore community over just under 2,000 residents but has a surprising number of criminal and traffic charges, including DWI, filed in the borough. A major factor in number of disorderly conduct, simple assault, marijuana possession and other charges is the influx of vacationers in the area during the summer. Irrespective of what brought you to Avon when you were charged, hiring the right lawyer will arm you with the best tool for avoiding a conviction in our opinion.
We are The Law Offices of Jonathan F. Marshall, an eight attorney defense team that is the largest in Monmouth County. Our lawyers have appeared in Avon Municipal Court for decades and possess over 100 years of combined experience. We also have an extensive practice at the Monmouth County Superior Court. Contact our Belmar Office for a free consultation with one of our attorneys immediately.
Avon Municipal Court Information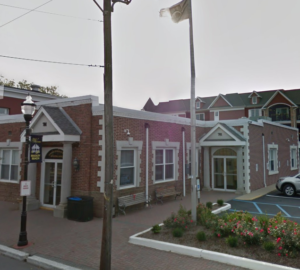 The Avon Municipal Court is conducted at Bradley Beach Municipal Court, 701 Main Street, Bradley Beach, NJ 07720. The hours of operation of the municipal court are Monday through Friday from 8:00 a.m. until 4:00 p.m. The Avon Municipal Court and Court Administration, Pattie Megill, can be reached at 732-776-2999, extension 1045. The court has jurisdiction to decide all disorderly persons offenses, DWI and traffic tickets issued within the .54 square miles of the municipality. The most common charges heard in the court are simple assault, marijuana possession, disorderly conduct, driving while intoxicated, resisting arrest, underage drinking and alcohol possession, driving while suspended and other charges. All issues of law and fact are decided by Honorable Paul J. Capotorto, the municipal court judge in Avon. Judge Capotorto conducts Avon court sessions on the 3rd Wednesday of the month beginning at 1:00 p.m. The state is represented in these proceedings by the municipal prosecutor, Benjamin B. Choi, Esq.
If you were charged with indictable criminal offense, it will not be heard in Avon Municipal Court. The municipal court lacks jurisdiction to decide aggravated assault, cocaine possession, CDS distribution, terroristic threat and other crimes of the first degree, second degree, third degree and fourth degree. These types of criminal charges may only be heard at the Monmouth County Superior Court in Freehold New Jersey. The chart below contains the most recent statistics for indictable criminal offenses such as these, as well as DWI and traffic tickets filed in Avon by the Sea.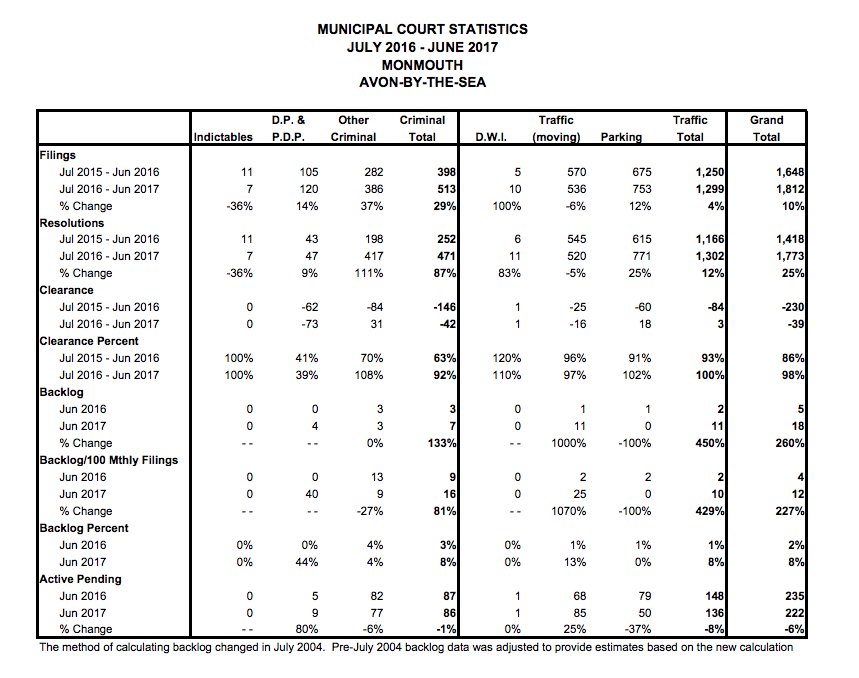 Avon NJ Municipal Court Defense Attorneys
A common mistake made by individuals faced with a criminal offense or serious traffic charge is to attempt to handle the offense without a defense attorney. This is an unwise decision since even a misdemeanor disorderly persons offense will leave you with a record and expose you to up to 6 months in jail. A motor vehicle summons for an offense of magnitude also has severe repercussions. For example, a conviction for DWI results in up to a one year suspension for a first offense, two years for a second offense and ten years for a third offense. A six month jail sentence is mandatory for a third conviction for DWI/DUI in Avon New Jersey. The point is that it is prudent to hire a lawyer for just about any criminal or traffic offense. At a minimum, it is in your best interests to contact our firm, The Law Offices of Jonathan F. Marshall, to speak to one of our highly experienced attorneys. Lawyers are available around the clock to provide a free consultation.
Helpful Avon NJ Links & Resources: