Colts Neck NJ Criminal, DWI and Traffic Attorney
While Colts Neck works hard to maintain its rural farmland routes, it is not without its share of criminal and motor vehicle charges. There is, in fact, a long line every week in its municipal court of litigants charged with offenses like DWI, possession of 50 grams or less of marijuana, underage drinking and the like. Whether its the high volume of traffic on New Jersey Route 34, New Jersey Route 18 or just an aggressive police department, there is little doubting that this Township has a considerable number arrested every year. Your situation certainly is not unique if you are facing a violation in Colts Neck NJ.
The attorneys at The Law Offices of Jonathan F. Marshall have exceptional qualification to handle your Colts Neck offense. We are former prosecutors in Monmouth County with over 100 years of combined experience defending a wide array of charges in the town which is the home to Laird & Company. Our founder, Jonathan F. Marshall, even filled in as prosecutor of Colts Neck Municipal Court in years past. For a thorough review of the facts of your case in a free initial consultation, call our Red Bank Office at 732-450-8300.
Colts Neck Municipal Court Information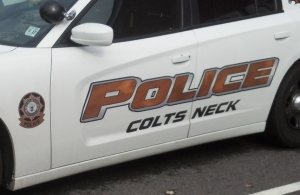 Colts Neck Township is one of the least densely populated municipalities in Monmouth County with 10,142 residents spanning 31.79 square miles. Do not be fooled by this statistics, however, as it relates to its active municipal court. The Colts Neck Municipal Court is located at 124 Cedar Drive, Colts Neck, New Jersey 07722. The court conducts sessions every Friday beginning at 8:30 a.m. Colts Neck has one judge who presides over all proceedings, Honorable Nicole Sonnenblick. You may call 732-431-1799 on weekdays between 9:30 a.m. and 4:00 p.m. to speak to the Court Administrator, Kathryne Bradach, or the other members of the staff. Please note that jurisdiction of the municipal court is limited to disorderly persons offenses, traffic charges and ordinance violations levied by the Colts Neck Police Department. Indictable crimes of the first, second, third and fourth degree fall outside this court's authority and are referred to the Monmouth Superior Court for resolution.
Colts Neck DUI Lawyer
With two major highways running through the township, Colts Neck is at no loss of opportunities to stop suspected drunk drivers. In fact, DUI is one of the more common offenses encountered in the municipality. Despite its prevalence, the truth is that a conviction results in extreme consequences including a mandatory loss of license, thousands in fines and surcharges, and even jail in the event of a second offense or third offense. This is a chief reason why is it so pivotal that you retain a seasoned DWI defense attorney to defend you in Colts Neck. The lawyers at The Law Offices of Jonathan F. Marshall possess this pedigree. To speak to a lawyer on our staff immediately, call us at 732-450-8300.