Deal NJ Criminal & DWI Attorneys
Our Monmouth County law firm has been representing individual charged with criminal, dwi and motor vehicle offenses in the Borough of Deal for decades. We could not tell you just how many charges have been successfully defended by our firm, The Law Offices of Jonathan F. Marshall, but it certainly would be a significant number given that we are the largest criminal defense firm in the county. Our team of skilled attorneys includes several former prosecutors and a knowledgeable staff that has appeared in Deal Municipal Court on countless occasions. If you were arrested for DUI, marijuana possession, harassment, disorderly conduct, resisting arrest or any other violation, call our office now at 732-450-8300. A lawyer will be happy to provide you with the benefit of our time free of charge.
Deal Municipal Court Information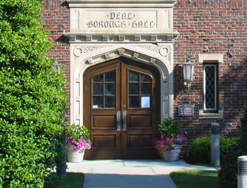 Address: 190 Norwood Avenue, P.O. Box 56, Deal NJ 07723
Hours: 8:30am to 4:30pm, Monday through Friday
Phone: (732) 531-1343
Court Sessions: 1st & 3rd Wednesdays at 9:00 a.m.
Judge: Honorable Scott Basen
Prosecutor: Jason Shamy, Esq.
Ct. Administrator: Mary Ellen Supon, CMCA
Cases Heard: Deal Municipal Court has authority to oversee the disposition of municipal ordinance violations, DWI/DUI, traffic offenses and disorderly persons charges. Since there is a right to presentation of indictable charges to a grand jury and this can only occur at the Superior Court, Deal Municipal Court lacks jurisdiction over first, second, third and fourth degree crimes. An offense falling outside the municipal court's authority includes aggravated assault, possession of a weapon of unlawful purpose, shoplifting merchandise with a value of $200 or more, eluding and any other offense that is designated as a "crime".
This video is a guide to find the courtroom once inside the Deal Municipal Court
DUI Charge in Deal New Jersey
For a town spanning 1.24 square miles and having 750 residents, the Borough of Deal has quite a bit of DWI, DUI and breath test refusal charges. In the typical year, more than fifty (50) drunk driving offenses are filed by the police in Deal. And unless the accused was able to come up with a genuine issue that Prosecutor Shamy and Judge Basen bought into, the individual was convicted. There is no plea bargaining of DWI or DUI cases so this was the only way to achieve a not guilty. This is precisely the reason why it is imperative that you do your research and hire an attorney skilled in defending driving while intoxicated/under the influence charges in Deal Municipal Court. The lawyers at this firm possess this level of qualification as former DWI prosecutors who are Alcotest certified and field sobriety certified. It also helps that we have appeared in this court many times on DUI cases.
Deal NJ Defense Lawyers
Whether you were stopped on New Jersey Route 71/Norwood Avenue, Ocean Avenue or came into contact with police on another basis, you need to take the resulting charge seriously. Even a first offense for DWI carries thousands of dollars in financial consequences and a mandatory driver's licenses suspension. The repercussions only get worse for a second or third offense, or a more severe offense like possession of heroin or CDS distribution of any nature including marijuana. Our attorneys can help you, however, and are successful in most cases. To speak to one of the Deal NJ Defense Lawyers at our firm, call us any time 24/7 at 732-450-8300.