Hazlet DWI & Criminal Attorneys
As the former prosecutor in Hazlet Municipal Court, Jonathan F. Marshall knows very well how criminal offenses, drunk driving and traffic tickets are treated in this venue. The Hazlet police, prosecutor and judge take violations of the law seriously and any expectation that they will simply fold is unrealistic. It takes skilled representation in order to avoid the penalties that apply to offenses like DWI, driving while suspended, marijuana possession, simple assault and resisting arrest. This is how Mr. Marshall and the other attorneys, The Law Offices of Jonathan F. Marshall can assist you. We have been handled thousands of municipal and superior cases, many of them arising in Hazlet, and have the tools to insure that the best result is secured on your behalf. An attorney at our Middletown Office is available immediate to discuss your case. Consultations with our lawyers are free so there is no reason to hesitate to contact us at 732-681-0080 for assistance.
Hazlet NJ DWI Lawyer
There is often a misunderstanding that results in drunk driving cases comes down to hiring the DWI lawyer who is most connected in Hazlet Municipal Court. While that thinking would certainly support your pointing to Mr. Marshall and our firm, the truth is that this should not be the criteria for selecting your attorney. There is no plea bargaining in driving while intoxicated and driving under the influence of drugs cases. What this means is that you need to attack a DUI charge on its merits if you want to avoid the penalties that apply under N.J.S.A. 39:4-50. Success in this regard comes down to knowledge and creativity not political favor with the court. Thankfully, our firm may be the most credentialed in terms of the number of certified DWI attorneys in not only this county but the entire state. For example, two of the approximately 5 lawyers in the state who are both certified as instructors in field sobriety testing by the National Highway Traffic Safety Administration and by Draeger Laboratories as operators of the Alcotest. We are also one of 2 or 3 firms in the state with its own Alcotest machine to aid in preparation of DWI cases. The point is that these, among other characteristics, equip us with considerable tools to succeed on your behalf in Hazlet Municipal Court beyond our familiarity with the police and court itself. Call us if you have been charged with a first offense, second offense or third or subsequent offense in Hazlet Township.
Hazlet Municipal Court Information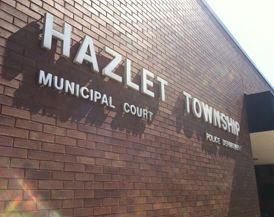 Address: 255 Middle Road, Hazlet, New Jersey 07730
Telephone Number: 732-264-2231
Judge: Honorable Michael D. Pugliese
Prosecutor: Lani Lombardi, Esq.
Office Hours: Weekdays from 8:30AM-3:30PM
Court Administrator: Carol LaManna
Sessions: Monday at 12:30PM; 2nd & 4th Tuesday at 5PM
Criminal Attorney in Hazlet New Jersey
There are two classifications of criminal offenses that may be filed in Hazlet Township NJ. The first variety is a disorderly persons offense such as possession of 50 grams or less of marijuana, drug paraphernalia charges, harassment and disorderly conduct. Charges of this nature can result in up to six months in jail, fines and a criminal record. They are considered, however, misdemeanors that fall within the jurisdiction of the Hazlet Municipal Court. The police in the Township may also file felony offenses which are "indictable". This pedigree of offenses comes in the form of a first degree, second degree, third degree or fourth degree crime and can only be handled by the Monmouth County Superior Court in Freehold. Examples of offenses falling within this realm are possession and distribution of heroin and cocaine, growing or selling marijuana, assault by auto, aggravated assault and violation of a restraining order. The Hazlet Criminal Attorneys at our firm have well over 100 years of collective experience defending violations within this grade and are ready to put their knowledge to work for you.
Hazlet NJ Defense Lawyers
Hazlet is in the top 50% in the county in terms of both population (i.e. 20,334 residents) and square miles (i.e. 5.675), and it is reflected in the amount of charges filed in the municipality. Major traffic corridors like Route 35 and Route 36, as well as the Garden State Parkway, are also contributing factors in the number of criminal and motor vehicle violations. If you were arrested for any variety of violation in Hazlet, our lawyers are certainly familiar with matters in this jurisdiction. An attorney at The Law Offices of Jonathan F. Marshall is available for telephone consultation 24/7 at 732-681-0080.