Millstone Criminal Defense Attorneys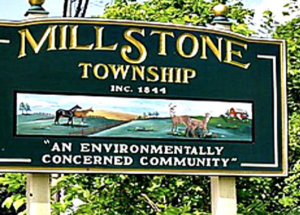 Charged With Simple Assault, DWI, Disorderly Conduct, Marijuana and Other Drug Possession, Harassment, Domestic Violence or Another Offense in Millstone New Jersey
Millstone New Jersey has far more criminal and serious traffic charges like DWI despite being one of the more rural municipalities in Monmouth County. Over a thousand summons/tickets for moving motor vehicle violations and almost 400 criminal offenses are written in the township annually. The largest number filings involve some form of domestic violence, simple assault, harassment, disorderly conduct, possession of marijuana and other drugs and DWI. If you were charged with an variety of criminal offense or issued a traffic ticket in Millstone, the attorneys at our firm are well equipped to represent your interests.
We are The Law Offices of Jonathan F. Marshall, an eight attorney defense team with several prosecutors on staff. You should also know that our lawyers have over a century of combined experience defending a wide array of offenses at the Millstone Municipal Court and indictable crimes arising in the township that are being heard at the Monmouth County Superior Court in Freehold. To speak to a lawyer with the knowledge and skill to preserve your record and liberty, contact our office at 732-450-8300. Initial consultations with the attorneys at our criminal defense firm are free.
Criminal, DWI & Traffic Charges In Millstone New Jersey
The chart below outlines the types of charges that are issued in Millstone New Jersey. Indictable offenses are those involving a crime of the first degree, second degree, third degree or fourth degree. Authority to decide cases of this nature is reserved to the Monmouth County Superior Court that is located in Freehold New Jersey. Common examples of offenses falling within this category include burglary, distribution of CDS (e.g. marijuana, cocaine, Xanax, heroin, ecstasy, etc.), terroristic threats, aggravated assault and possession of most drugs (i.e. other than 50 grams or less of marijuana). Domestic violence restraining order hearings (e.g. temporary restraining order, final restraining order or violation of restraining order) are also limited to the Superior Court. All other criminal and motor vehicle matters are heard in the municipal court.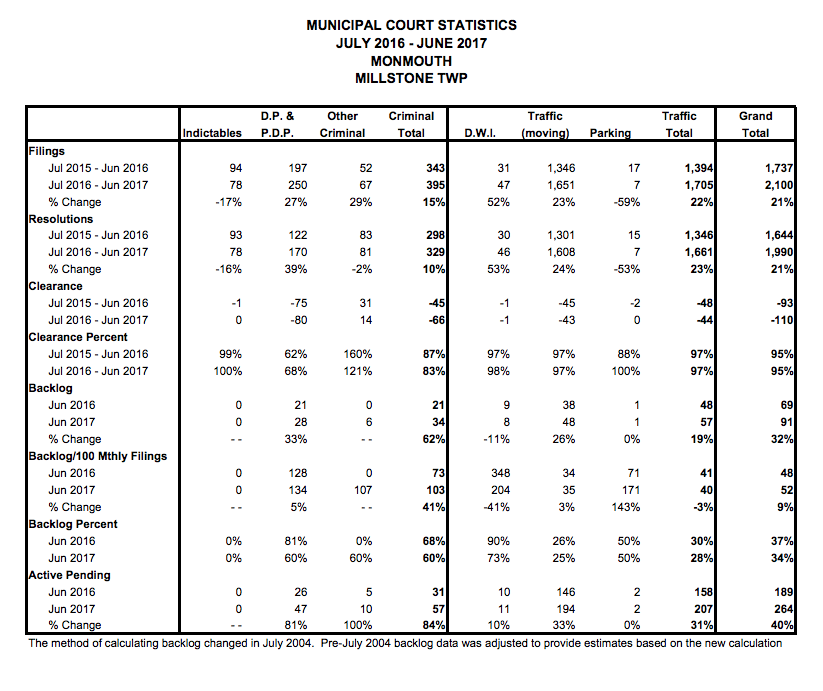 Millstone NJ Municipal Court Lawyer: Court Information To Assist You
All disorderly persons offenses, traffic violations and ordinance summonses issued by the New Jersey State Police, which is responsible for law enforcement in the township, are heard in the Millstone Municipal Court. All proceedings of the municipal court are conducted at 215 Millstone Road, Millstone NJ 08535. The judge of the Millstone Township Municipal Court is the Honorable Nicole Sonnenblick. The Court Administration is Diane Canzanella, CMCA. The hours of operation are weekdays from 8:30 a.m. to $:00 p.m. The administrative office can be reached at 732-446-6219. Court sessions are conducted on the 1st and 3rd Tuesday of the month beginning at 4:00 p.m. For the website of the court, click here.
Additional Resources That May Be Of Interest
Troop C Road Station (Hamilton Sub-Station) of the New Jersey State Police Station responsible for patrolling Millstone Township and its webpage can be found by clicking here.
You can obtain information regarding the government and community by referring to the official website of the Township of Millstone.
Background information for the township can be found on the Millstone Wikipedia Page.
Millstone Township Criminal Attorney
Millstone Township takes criminal and other violations very seriously. You need to invest the same level of attention by hiring a skilled attorney. There is no doubt that your chances of a favorable outcome will be significantly increased if you retain a lawyer who is adapt in defense of Millstone charges. The attorneys at The Law Offices of Jonathan F. Marshall possess the level of expertise needed to ensure that you will have every opportunity to avert a conviction for DWI, simple assault, disorderly conduct, possession of marijuana or another offense. To secure an immediate free consultation with one of our lawyers, call 732-450-8300.