Monmouth Beach Criminal Lawyers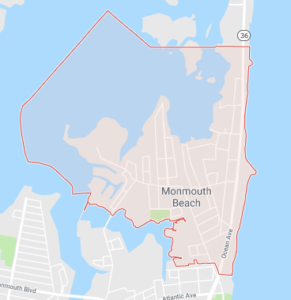 The lawyers at our firm have been defending criminal, dwi and traffic charges in Monmouth Beach New Jersey for decades so we certainly know how being charged with such an offense can effect someone. What we can unequivocally tell you is that there probably isn't a better tactic to eliminate the risk associated with a DWI, simple assault, marijuana possession, disorderly conduct or other Monmouth Beach charge than to hire a savvy defense attorney. Here at The Law Offices of Jonathan F. Marshall, we have a team of accomplished attorneys that have over a century of collective experience representing clients in Monmouth Beach Municipal Court and at the Monmouth County Superior Court. If you are looking for a lawyer with extensive experience dealing with the court, you have certainly landed in the right place. Call us at 732-450-8300 to speak to an attorney immediately in a free consultation.
Criminal, DWI & Traffic Charges in Monmouth Beach New Jersey
Monmouth Beach may be known as a small beach town but that certainly is not reflected in the number of criminal, DWI and moving traffic offenses issued within its 2.069 squire miles every year. Approximately 154 criminal charges, including 16 felony crimes and 119 disorderly persons offenses, were filed in the town from July 2016 t0 June 2017. A total of 900 moving traffic violations were also written. These are eye catching statistics when you consider that Monmouth Beach only has about 3,279 residents. If you would like to take a more in depth look at the statistics, they are contained in the chart published by the New Jersey Administrative Office of the Court which follows.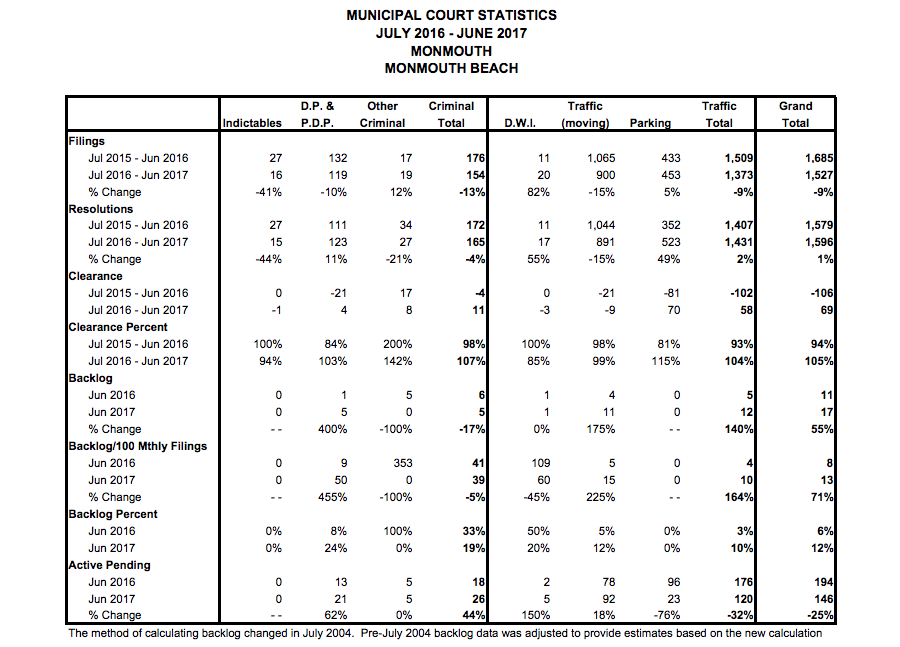 Monmouth Beach Criminal Offense
As you can see from the chart above, criminal charges are broken into indictable crimes and disorderly persons offenses. A charge is indictable when it involves a crime of the first, second, third or fourth degree. Common offenses in these grades are aggravated assault, cocaine possession, possession of prescription drugs, terroristic threats, restraining orders, CDS distribution and burglary. All proceedings in a case involving charges like these are conducted at the Monmouth County Superior Court in Freehold. Misdemeanor criminal offenses, as well as tickets/summonses for moving traffic infractions, fall within the jurisdiction of the Monmouth Beach Municipal Court and include the following:

Simple Assault
Resisting Arrest
Disorderly Conduct
Possession of 50 Grams or Less of Marijuana
DWI
Driving While Suspended
Possession of Drug Paraphernalia
Obstructing the Administration of Law
Driving Without Insurance
Monmouth Beach Municipal Court Information
The attorneys at our firm are a common fixture in Monmouth Beach Municipal Court, which is conducted in the courtroom of the Tinton Falls Municipal Court. The address for the municipal court is 556 Tinton Avenue, Tinton Falls, NJ 07724. The Court Administrator is Stacy Kitson. The telephone number for Monmouth Beach Municipal Court is 732-542-3400, ext. 373. All proceedings are conducted with Honorable Michael Shuhala serving as the municipal court judge. There is no right to a jury so all issues of law and fact in your municipal court case are decided by Judge Shuhala.
Monmouth Beach NJ DWI Lawyer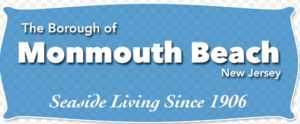 Although the statistics for DWI arrests were relatively low last year in Monmouth Beach, the police are traditionally much more aggressive. It is not uncommon for upwards of 100 first offense, second offense and even third offense cases for DWI/DUI to be filed in the Borough. The are also instances where violations involve allegations of driving under the influence of drugs, including marijuana, cocaine, Xanax and other CDS. Our lawyers have been defending DWI charges in Monmouth Beach for decades with success. We would be more than happy to discuss your case without obligation and an attorney is available around the clock to provide this service. Just call 732-450-8300 and a highly knowledgeable lawyer will answer all your questions and advise you as to your best options for avoiding a conviction.
Helpful Links and Information Regarding Monmouth Beach New Jersey