Charged With Serving Alcohol To A Minor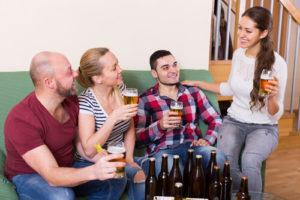 If you provide alcohol to someone who is underage to drink, you may be charged with a criminal offense under N.J.S.A. 2C:33-17. This violation, which is captioned "offer or service of alcoholic beverage to underage person", is a disorderly persons offense. Typically, this charge is heard in the municipal court in Belmar, Manasquan, Red Bank, Wall, Holmdel or another in Monmouth County although there are rare cases where it is filed as a companion offense to an indictable crime. If you have been charged with purchasing or serving alcoholic beverages to someone under twenty-one (21), we can help you avoid a criminal record in most cases. Our former Monmouth County municipal prosecutors appear in courts throughout this region on a daily basis and are successfully in an extraordinarily high percentage of 2C:33-17 cases in escaping a conviction. To learn what can be accomplished for you, call our Freehold Office or Red Bank Office for a free initial consultation.
New Jersey Providing Alcohol To A Minor Law
In order to prove someone guilty of illegally serving a minor, the prosecutor must establish four (4) elements. First, the beverage in question must be alcoholic in nature. Second, the accused must have offered, served, made available, enticed or encouraged consumption of alcohol. Third, the conduct must have directed toward someone under twenty-one (21) years of age. Fourth, the conduct of the defendant must have engaged in knowingly or purposefully. When each of these elements are established, the defendant is subject to a county jail term of up to six (6) months and fine of up to $1,000.
There are three (3) affirmative defenses that apply under N.J.S.A. 2C:33-17. First, the charge does not apply to a parent or guardian. Second, there is no violation if the conduct is in conjunction with a religious observance, ceremony or rite. The third affirmative defense applies where the alcohol is provided in the home of the accused and with the permission of the parent of the individual under legal age.
Defendant Who Is Underage
You will note that the elements set forth for this offense do not include a requirement that the defendant be of legal drinking age. The reason is because cases like State v. Haarde, 230 N.J.Super. 605 (App.Div.1989) and State v. In Re D.J.F., 336 N.J.Super. 214 (App.Div.2001) have interpreted N.J.S.A. 2C:33-17 to apply to not only adults who are under twenty-one (21) years old but also minors. The stated purpose of the statute is to discourage underage drinking and these courts have held that this goal would be frustrated if underage defendants were immune from prosecution.
Red Bank Supplying Alcohol To A Minor Attorneys
Our Red Bank Criminal Office, as well as others in the county, defends clients charged with providing and serving alcohol to a minor throughout Monmouth County, including Hazlet, Aberdeen, Bradley Beach, Howell, and Tinton Falls. Our firm has the skills necessary to achieve a favorable outcome, including avoidance of a criminal record. Indeed, we have successfully handled hundreds of underage alcohol and providing charges over the last two decades. Call us anytime of day or night for a free consultation at 732-450-8300.