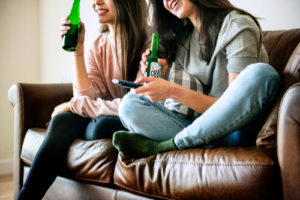 Ocean Township is one of the busier municipalities in Monmouth County for underage alcohol possession and consumption. The driving force for this volume is not only the large number of teenagers under legal driving age in Ocean but also the presence of Monmouth University students in the community. The largest block of charges stem from college parties. Irrespective of the circumstances under which you were charged, our Ocean Township Underage Alcohol Possession Attorneys are equipped to avoid a criminal record and other consequences that come with a conviction. Here at The Law Offices of Jonathan F. Marshall, our lawyers make up the largest defense team in the region and also offer representation by several former prosecutors from the area. To speak to an attorney on our staff free of charge, call our Red Bank Office at 732-450-8300.
Underage Drinking Charge in Ocean New Jersey
The biggest shock experienced by someone facing an underage drinking charge is their learning that they will have a record if they are convicted under N.J.S.A. 2C:33-15 ("Possession or consumption of alcoholic beverage in public place or motor vehicle by person under legal age"). While the conviction is only for a misdemeanor/disorderly persons offense, the violation will show on a background check. There is also fines, alcohol education, probation and/or community service that comes as a result of a plea or finding of guilt. And when the possession or consumption occurs in a motor vehicle, the accused is subject to a driver's license suspension for six (6) months. This revocation applies in addition to any other that results from the arrest, for example, for possession of 50 grams or less of marijuana or a drug paraphernalia possession charge in Holmdel.
As previously stated, the law that applies to underage drinking is 2C:33-15. This statute provides, in pertinent part, that:
a. Any person under the legal age to purchase alcoholic beverages who knowingly possesses without legal authority or who knowingly consumes any alcoholic beverage in any school, public conveyance, public place, or place of public assembly, or motor vehicle, is guilty of a disorderly persons offense, and shall be fined not less than $500.
b. Whenever this offense is committed in a motor vehicle, the court shall, in addition to the sentence authorized for the offense, suspend or postpone for six months the driving privilege of the defendant.
c. In addition to the general penalty prescribed for a disorderly persons offense, the court may require any person who violates this act to participate in an alcohol education or treatment program, authorized by the Division of Mental Health and Addiction Services in the Department of Human Services, for a period not to exceed the maximum period of confinement prescribed by law for the offense for which the individual has been convicted.
Ocean Township Underage Alcohol Possession Lawyer
It should be readily apparent from the aforesaid that an underage alcohol possession offense is nothing to take lightly. Reality is that you will have a blemish on your record and can even be sent to the county jail if you are convicted pursuant to N.J.S.A. 2C:33-15. There is also the possibility of a host of penalties that were previously described. This should serve as reason enough to contact a lawyer at The Law Offices of Jonathan F. Marshall for a free consultation. Attorneys are available 24/7 to help you at 732-450-8300.