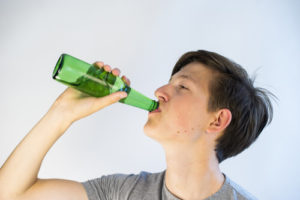 National Parks Service rangers stationed at Sandy Hook issue many charges for underage possession or consumption of alcohol every year. The biggest portion of these offenses arise at Gunnison Beach, South Beach and North Beach, where open alcohol is permitted by those of legal drinking age. As members of a criminal defense firm that is the largest in Monmouth County and has over 100 years of combined experience, the lawyers at The Law Offices of Jonathan F. Marshall are well acquainted with the volume of underage drinking that occurs at the Sandy Hook Unit of the Gateway National Recreation Area. We have successfully defended an immeasurable number of clients in the United State District Court for alcohol violations like the one you are facing. To speak to an attorney, including one of our several former prosecutors, about your underage alcohol offense, call our Red Bank Office (732-450-8300) or Newark Office (973-733-2204). Initial consultations are free of charge.
Charged With Underage Drinking at Sandy Hook
New Jersey law is "assimilated" by the federal court in resolving underage drinking and possession charges. What this means is that N.J.S.A. 2C:33-15 will be applied in your case. This law prohibits anyone under twenty one (21) to possess or consume an alcoholic beverage. A conviction for this violation results in a fine of $500-$1,000, up to six months in jail, and a mandatory driver's license suspension if the offense occurred in a motor vehicle. There is also an important distinction that you must be aware of in terms of underage cases at the federal level as compared to state court. If you are convicted of underage alcohol possession or drinking at Sandy Hook, there is no ability to expunge. The record will be permanent.
The Code of Federal Regulation imposes additional alcohol restrictions at Sandy Hook that apply irrespective of age. In this regard, possession/consumption of alcoholic beverages is prohibited in the following areas:
All roadways, parking areas, multi-use pathways and campgrounds;
Riis Park; and
Tilden Beach.
You may be fined and subject to other penalties if you consume alcohol in these prohibited areas. The situation only gets that more complicated if the Sandy Hook criminal charge involves a someone who is under twenty-one (21).
Gunnison Beach Underage Alcohol Defense Attorney
It is pivotal that you appreciate the stakes associated with criminal summons or complaint issued on Gunnison Beach at Sandy Hook. This is not a simple municipal court or juvenile division offense. This is a federal matter that will be handled in United States District Court in Newark. The rules and procedures in this venue are much more formal and, in most instances, complicated than what would be involved in state court. This is even the case when the charge is for underage alcohol. You clearly need to recognize this distinction, as well as the fact that a conviction can never be removed from your record via expungment. An attorney who is experienced and skilled in the defense of these matters can help you avoid an unfavorable outcome. This is precisely what the Sandy Hook Criminal lawyers at The Law Offices of Jonathan F. Marshall can offer. Call us anytime 24/7 for immediate assistance.