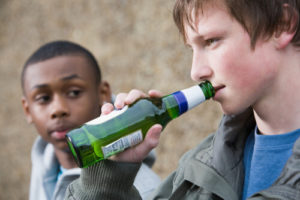 Individuals are often shocked to learn that that it is a criminal offense to possess or consume alcoholic beverages when you are underage. N.J.S.A. 2C:33-15 makes it a disorderly persons for someone under twenty-one (21) to be in possession of alcohol. West Long Branch is a municipality where this violation arises frequently given that it is the home to Monmouth University. If you were charged with underage drinking in the borough, you clearly have significant company. The key is to differentiate yourself from the pack by avoiding a conviction to this charge. Our attorneys are adapt in secure favorable outcomes in West Long Branch Municipal Court as the largest defense firm in Monmouth County with over 100 years of collective experience handling cases in the jurisdiction. To speak to an attorney our team anytime 24/7, call 732-450-8300. A former prosecutors will gladly provide a free initial consultation.
Charged With Underage Alcohol Possession in West Long Branch NJ
The police in West Long Branch, as well as on campus, are serious about combating underage alcohol possession and consumption. There is rarely leniency for anyone arrested or otherwise charged with drinking underage. The summonses or complaint almost always issued is brought in accordance with N.J.S.A. 2C:33-15. The law is directed at those who knowingly possess or consume an alcoholic beverage in a public place, motor vehicle or school. any school, public conveyance, public place, or place of public assembly when they are not of legal drinking age. A violation is a disorderly persons offense that carries a fine of not less than $500, probation, alcohol education, community service and up to six (6) months in the county jail. There is also a six (6) month driver's license suspension that applies if the offense occurs in a motor vehicle. There is no violation of this statute, however, where the accused is handling liquor as part of an ABC approved employment or where the immunity set forth in subsection (e) of 2C:33-15 applies (e.g. police were alerted as a result of a 911 call by the accused).
West Long Branch Underage Alcohol Possession Lawyer
If you are a parent of a minor charged with illegal possession of alcohol, you are probably concerned about the record that results from a conviction. Your fear is legitimate given the lasting impact that a plea or finding of guilt may have on your child. This is one of several sound reasons why a lawyer at The Law Offices of Jonathan F. Marshall should be enlisted. Our attorneys have been successful in securing dismissal in almost all West Long Branch underage drinking cases we have handled. Contact our office anytime 24/7 to speak to an attorney on our staff free of charge. We will thoroughly review the circumstances of the offense and do everything possible to insure you are among the slew of clients who have avoided conviction.