Monmouth County Failure to Make Lawful Disposition of CDS Charge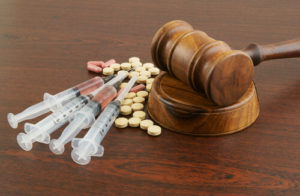 "Failure to make lawful disposition" is a serious offense and one that is often misunderstood. I primary reason for this lies in the fact that many individuals confusingly interpret the charge as a drug possession offense because both violations are set forth in the same statute – N.J.S.A. 2C:35-10. If you were arrested for failure to make lawful disposition or even hindering the administration of justice, give us a call. A seasoned criminal lawyer on our defense team is available 24/7 to assist you so don't hesitate to contact us. We defend this charge throughout Monmouth County including in the municipal courts of Wall, Marlboro, Holmdel, Bradley Beach, and Fair Haven. Initial consultations are always complimentary so do not hesitate to contact us at 732-450-8300.
Failure to Make Lawful Disposition Law – N.J.S.A. 2C:35-10(c)
Subsection (c) of N.J.S.A. 2C:35-10, which defines the specific offense of "failure to make lawful disposition," provides that:
Any person who knowingly obtains or possesses a controlled dangerous substance or controlled substance analog in violation of subsection a. of this section and who fails to voluntarily deliver the substance to the nearest law enforcement officer is guilty of a disorderly persons offense. Nothing in this subsection shall be construed to preclude a prosecution or conviction for any other offense defined in this title or any other statute.
For purposes of this law, a controlled dangerous substance is defined by the Controlled Dangerous Substances Act and the most common forms are marijuana, cocaine, heroin, and prescription drugs. The accused must also make his or her own conscious choice not to deliver the drugs as the decision must be voluntary. Failure to identify the presence of drugs or deliver them during the course of an investigatory interrogation or other police confrontation therefore falls outside of 2C:35-10(c). See State v. Gredder, 319 N.J.Super. 420 (App.Div.1999)(police coercion negates voluntary decision-making and failure to make lawful disposition).
Penalties If Convicted Under 2C:35-10(c)
This offense is a disorderly persons offense that is punishable by up to six (6) months in the county jail. A conviction can also trigger hundreds of dollars in fines and monetary assessments. Additionally, since the charge involves a 2C drug conviction, the mandatory six (6) month drivers license suspension applies. This consequence can, however, be avoided provided a showing of significant hardship is presented.
Middletown NJ Failure to Make Lawful Disposition Attorneys
You cannot afford to be without representation in a matter of magnitude and here at The Law Offices of Jonathan F. Marshall, we have a team of attorneys dedicated to providing you with the best possible defense. Our lawyers have over one hundred years collective experience in defending criminal offenses and they have been prosecutors in over twenty-five municipalities around the State of New Jersey. We are prepared to put our knowledge in action for you in Manalapan, Howell, Eatontown, Tinton Falls or Ocean. Our team can secure the outcome you need, so please feel free to contact our office today for a free consultation with one our lawyers.