Charged With Selling Drugs in a School Zone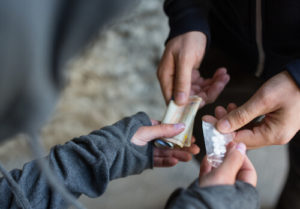 Are you or a loved one the subject of an indictment or charge alleging Distribution or Intent to Distribute a Controlled Dangerous Substance ("CDS") within 1,000 feet of a School Zone under the N.J.S.A. 2C:35-7? If you have, our lawyers, several of whom are former prosecutors in Monmouth County, are ready to assist you immediately. You should know that is important that you seek legal representation if you are facing a school zone CDS offense as the penalties under 2C:35-7 are much harsher than what you would face for a drug possession or standard drug distribution charge. And with the exception of a limited weight marijuana case, there is mandatory jail exposure for anyone convicted of selling cocaine, heroin or other drugs in a school zone. The key in our judgement in avoiding this consequence is not only the facts of a case but also the knowledge and experience of the attorney at your side. We believe our firm is exceptional in this regard with over 100 years of collective experience and the largest defense team in the county. If you were arrested or charged with distributing/selling CDS in a school zone in Belmar, Eatontown, Hazlet, Middletown, Wall or another local town, we are well equipped to defense you. Give us a call anytime 24/7 for assistance or to set up an appointment in our Freehold or Red Bank office.
Things You Should Know About the School Zone Distribution Law
The law governing selling CDS in a school zone enhances the penalties upon conviction from what would be the case if the transaction were outside this geographic area. In this regard, "school zone" is generally defined as 1,000 feet of any property owned or leased by a public school. However, in order for the state to prosecute someone for a 1,000 feet case under N.J.S.A. 2C:35-7, the municipality in question must possess a school zone map that was adopted by the governing body establishing a drug free school zone. Where these requirements have been met and the state proves distribution in a school zone, it is no defense that the accused lacked knowledge or intent to sell or distribute in the protected zone. The following Monmouth County schools possess areas that fall under this law:

Atlantic Highlands School District
Avon School District
Belmar School District
Bradley Beach School District
Brielle School District
Colts Neck School District
Deal School District
Eatontown Public Schools
Fair Haven Public Schools
Farmingdale School District
Freehold Borough Schools
Freehold Reg. High School District
Freehold Township Schools
Hazlet Township Public Schools
Henry Hudson Regional High School
Highlands School District
Holmdel Township Public Schools
Howell Township Public Schools
Keansburg School District
Keyport Public Schools
Little Silver School District
Long Branch Public Schools
Manalapan-Englishtown Reg.School District
Manasquan Public Schools
Marlboro Twp. Public School District
Matawan-Aberdeen Reg. School District
Middletown Twp. Public School District
Millstone Township Schools
Monmouth Beach School District
Monmouth County Vocational School District
Monmouth Regional High School
Neptune City School District
Neptune Township Schools
Ocean Township School District
Oceanport School District
Red Bank Borough Public Schools
Red Bank Regional High School
Roosevelt Public School District
Rumson School District
Rumson-Fair Haven Reg. High School
Sea Girt School District
Shore Regional High School
Shrewsbury Borough School District
Spring Lake Heights School District
Spring Lake School District
Tinton Falls School District
Union Beach School System
Upper Freehold Regional School District
Wall Township Public Schools
West Long Branch Public Schools
Penalties for a School Zone Offense
As stated previously, the penalties are escalated for someone convicted of distributing CDS in a school zone. The fine increases to a maximum of $150,000 and this is not even the most significant enhancement; N.J.S.A. 2C:35-5 imposes parole ineligibility for someone convicted of selling drugs in a school zone. What this means is that an individual must serve a minimum period of incarceration before he or she is even eligible for parole, that is, release from jail. The period of parole ineligibility on a 1,000 foot case involving less than one ounce of marijuana is one (1) year. The period increases to three (3) years for all other forms of distribution (i.e. more than one ounce or distribution of any other forms of CDS like cocaine, heroin or prescription drugs). Anyone convicted of a school zone violation is also exposed to a mandatory drivers license suspension of at least six (6) months.
Freehold NJ School Zone Defense Attorneys
Since a school zone charge is always an indictable felony crime, there is no jurisdiction for the municipal court in Tinton Falls, Ocean Township, Neptune, Howell, Long Branch or another town to decide this offense. Your case must be dealt with at the county court in Freehold. Our lawyers have decades of experience representing clients in this system and have even been employed at the Monmouth County Superior Court. To learn what our former prosecutors and knowledgeable Freehold NJ School Zone Defense Attorneys can do you help you, call one of our offices anytime 24/7. We will be happy to assist you with questions, the school zone law, or even in arranging bail. We hope to hear from you.