Charged With Being a Drug Kingpin in Monmouth County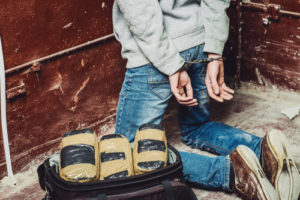 The most serious drug crime an individual can face in Monmouth County is Leading a Narcotics Trafficking Network, also referred to as a drug kingpin charge. This violation is a first degree crime that departs significantly from the penalties that typically apply for this grade of offense. In fact, an individual can be sentenced to life in prison as a leader of a narcotics trafficking network. Our Freehold NJ attorneys have been defending CDS distribution offenses, including drug kingpin charges, at the Superior Court for over twenty years now. This is where your case will be handled whether you were arrested in Long Branch, Asbury Park, Millstone, Eatontown, Tinton Falls or somewhere else in the county. We employ several former prosecutors and a team that has over 100 years of collective experience battle drug cases in this venue. Call our Freehold Office for a free initial consultation at 732-462-1197.
Leader of a Narcotic Trafficking Network Charge
The offense of Leader of a Narcotic Trafficking Network was created to smother those who act as organizers, financiers, managers, and supervisors of "drug rings", by increasing the penalties they face if convicted of this offense. The thought of lawmakers was to deter individuals from acting as a drug kingpin by creating extraordinary risk if caught. Given the extreme nature of the consequences of a conviction, great effort has been put into defining those who fall under the law. "Organizers" are persons who arrange or plan the drug trafficking network. "Financiers" are persons who provide money or some other form of capital in order to purchase CDS or otherwise bankroll a drug trafficking network, with intent to make a profit from such investment. A "supervisor" is a person who oversees the operations of the drug trafficking, and a "manager" directs the operations of the network. While these often overlap for individual offenders, only one is required to make a person eligible for the charge. It is entirely possible for more than one person to be charged as the "leader" of a drug trafficking network. The enterprise must involve the distribution of Heroin, MDMA, methamphetamine, GHB, LSD, Marijuana, or any other Schedule I or II drug.
In order to be charged as a "drug kingpin", there must be evidence that the Defendant exhibited direct control over the actions of those working for him. In cases where other actors distributed drugs for the defendant on occasion, but acted more as subcontractors than employees under his direct control, the Leader of a Narcotics Trafficking Network charge was found to be inappropriate. The defendant must conspire with at least two other people, and must be in charge of at least one other person (whether in a supervisory or managerial capacity). There must also be proof of an intent to make profit, but the Prosecutor does not have to show that the intended profit was ever actually realized.
Elements of the Offense. The State is required to prove that the Defendant was part of a scheme to manufacture, distribute, dispense, or bring into this State one of the above-mentioned drugs or substances. In order to protect lawful distributors of certain substances (such as pharmacists) it is also an element of this crime that the act be committed unlawfully. The prosecution must also prove that this was engaged in for profit, although it is not required to show that the intended profit was ever realized. The Defendant must have purposely intended to promote or facilitate the narcotics trafficking network, and must have entered into a conspiracy with at least two or more persons in furtherance of that goal. Finally, the state is required to prove that the Defendant was at least one of the categories of "leaders" described above.
Penalties That Apply To Leader of a Narcotic Trafficking Network
A drug kingpin offense is a crime of the first degree, the most serious grade provided under New Jersey law. If convicted, the Defendant faces a term of life imprisonment, with a mandatory 25 years before becoming parole eligible. The fine associated with this charge is either $750,000 OR 5 times the street value of the drugs involved, whichever is greater. There is also a laboratory fee of $50. The mandatory minimum associated with a conviction can be waived by the prosecutor if a plea can be reached, making it critical that a person facing this grave charge consult experienced defense attorneys as soon as possible. Since this is a crime of the 1st degree, there is NO eligibility for admission into a drug rehabilitation facility in place of a term of imprisonment.
Freehold NJ Leader Of A Narcotic Trafficking Network Attorney
The only place a drug kingpin charge may be handled is at the Monmouth County Superior Court, Freehold NJ. The reason is because this is the venue where felony indictable crimes are adjudicated irrespective of your arrest being in Middletown, Howell, Neptune, Ocean Township, Aberdeen or another town. Our attorneys include former prosecutors and skilled criminal lawyers who have practiced in this court for well over twenty years. In fact, two of the members of our defense team have practice in the county for over thirty years. For a complete review of the facts of your case and what our Freehold NJ Leader Of A Narcotic Trafficking Network Attorney can do for you, call us at 732-462-1197.