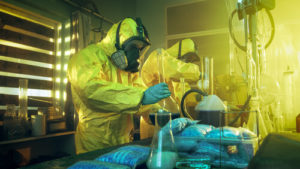 A charge for maintaining a controlled dangerous substance ("CDS") production facility is one of the most serious drug offenses an individual can face in Freehold. This is because the violation is always a first degree crime, the most serious grade criminal violation set forth under New Jersey Law. An individual is subject well over a decade in state prison if convicted under N.J.S.A. 2C:35-4 ("Maintaining or operating a controlled dangerous substance production facility"). Successfully defending this charge not only requires an attorney but one who has considerable exposure to the defense of drug trafficking. At The Law Offices of Jonathan F. Marshall, we can offer representation from a staff of criminal lawyers possessing over a century of experience combined, including years serving as prosecutors. If you or a loved one was arrested for maintaining a CDS production facility, we have the knowledge and skill to effectively defend you. Call our Freehold Office anytime 24/7 at 732-462-1197 for an immediate free consultation, to help arrange bail or for any other issue.
Maintaining A CDS Production Facility Charge in Monmouth County
The Monmouth Superior Court has sole jurisdiction to decide a 2C:35-4 offense filed in the county. Whether you were arrested in the Cliffwood section of Aberdeen, Keyport, Hazlet, Matawan, Keansburg or another municipality, the only place the case can be dealt with is at the courthouse on Monument Street in Freehold. You will face severe penalties if you fail to present a strong defense including many years in jail and hundreds of thousands in potential fines. This violation applies to a "person who knowingly maintains or operates any premises, place, or facility used for the manufacture of methamphetamine, LSD, phencyclidine, gamma hydroxybutyrate, flunitrazepam, marijuana in an amount greater than five pounds or ten plants or any substance listed in Schedule I or II…" The statute also extends to those who aid, promote, finance such an operation or participates in the maintenance or operations of the premises."
Elements of the Offense. There are four (4) element that must be established beyond reasonable doubt for the Monmouth County Prosecutor's Office to convict you of violating 2C:35-4 including: (1) premises were used to manufacture or otherwise produce a substance; (2) the material was of the drugs set forth in the statute; (3) defendant maintained or operated the premises, or aided, promoted, financed, or otherwise participated in the maintenance or operation of the premises; and (4) the conduct of the accused was knowing.
Penalties. As a first degree crime, maintaining a drug production facility carries a period of imprisonment of 10-20 years. In addition, there is a period of parole ineligibility (a.k.a. mandatory minimum term of incarceration) that applies at sentencing that requires that a defendant serve between one-third and one-half of their total prison term before they can be considered for parole. An individual is also subject to an extended term if he or she has previously been convicted of drug distribution. The maximum fine is the greater of $750,000 or five (5) times the street value of the drugs at the facility at the time of seizure. N.J.S.A. 2C:35-5 is an entirely separate offense, as is a charge for being a leader of a narcotics trafficking network, so that you can face penalties for multiple violations depending on the facts and circumstances.
Maintaining a CDS Production Facilities Defense Lawyers in Freehold NJ
It should be very apparent from the information on this page that the offense of maintaining a CDS production facility is an extreme violation. This is the case whether the property is being used for hard street drugs or as a facility to grow marijuana. It is always advisable to retain an experienced attorney given the severity of the penalties set forth in N.J.S.A. 2C:35-4. Our firm, The Law Offices of Jonathan F. Marshall can definitely serve you in this role. We defend those arrested anywhere in Monmouth County including in Tinton Falls, Long Branch, Manalapan, Wall and Upper Freehold. Lawyers are available now to assist you at 732-462-1997.