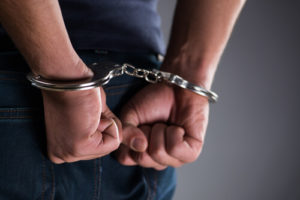 It is much easier to be charged with disorderly conduct in Ocean Township as your have probably learned. This offense is defined expansively to encompass a wide variety of unruly conduct. Your disorderly conduct charge may have resulted from use of offensive language or almost any conduct that allegedly posed a threat to peace and order. The defense team at The Law Offices of Jonathan F. Marshall has the capability necessary to insure that you are protected irrespective of the circumstances of your disorderly conduct offense. We are former prosecutors and experienced Ocean Township Criminal Attorneys who comprise Monmouth County's largest defense firm. For a free initial consultation with a lawyer at our firm, call 732-450-8300.
Disorderly Conduct Offense in Ocean New Jersey
The largest percentage of disorderly conduct offenses in Ocean result from allegations of improper behavior under N.J.S.A. 2C:33-2. An individual commits a violation under this law if they engage in "fighting or threatening, or in violent or tumultuous behavior" or they create a "hazardous or physically dangerous condition by any act which serves no legitimate purpose." Many violations occur in conjunction with intoxication, domestic violence or other situations where individuals are more apt to have an error in judgement. The other way you can face a 2C:33-2 charge is by using offensive language in a public place. Words are offensive when they are "unreasonably loud and offensively coarse or abusive" and are uttered for the "purpose to offend the sensibilities of a hearer or in reckless disregard of the probability of so doing".
The consequences of a disorderly conduct conviction are potentially significant. You will have a record which can effect your ability to secure employment, a professional license or other endeavors. The fine can reach $1,000 plus there are a number of mandatory court assessments that must be imposed at sentencing. The court may also impose a county jail sentence of up to six months. All of the penalties apply in addition to those which apply for a companion offense like simple assault or underage drinking in Ocean Township.
Ocean Township NJ Disorderly Conduct Lawyer
The time to act is now if you were arrested for disorderly conduct in Ocean. You certainly do not want to put yourself in the position of being behind the eight ball so selection of a lawyer is something you need to do as soon as possible. Our attorneys make up a team with over 100 years in practice. We have successfully represented countless clients in Ocean Township Municipal Court during our tenure. To speak to an attorney at The Law Offices of Jonathan F. Marshall in a free consultation, call our office at 732-450-8300. We are available 24/7 to assist you.