Monmouth County Disorderly Conduct Charge Under N.J.S.A. 2C:33-2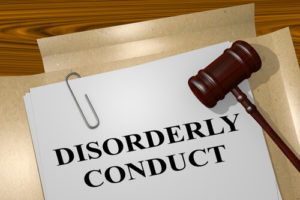 The most common variety of "misbehavior" that gives rise to a criminal charge is referred to as disorderly conduct. As defense attorneys who have been practicing in Monmouth County for literally decades, we have dealt with this offense thousands of times, especially given the prevalence of its issuance in shore towns like Manasquan, Brielle, Asbury Park and Belmar. The information on this page should provide you with some helpful explanation as to what is involved under the NJ Disorderly Conduct Law. Do not hesitate to call our office for a free consultation with one of our attorneys to discuss representation or details of the law and your case. Just because you were arrested for disorderly conduct in Ocean Township or elsewhere in Monmouth County, it does not mean that you have to end up with a criminal record and that is where we come in handy. Our 100 years of prior defense experience, including service as prosecutors in the county, overwhelming translates into dismissals and downgrades of 2C:33-2 charges so that a record and other negative consequences are avoided. Call one of our Monmouth County offices to discuss how we can accomplish our mutual goal of escaping a conviction.
What the Prosecutor Must Prove to Establish Disorderly Conduct
It is important to keep in mind that the police often use N.J.S.A. 2C:33-2 to arrest those they construe as being disruptive, dangerous, intoxicated and/or likely to cause violence. However, it is not the desire of police that is determinative in terms of a conviction, but rather whether the necessary elements of a criminal offense under 2C:33-2 have been established. To prove this charge, the prosecutor must establish either improper behavior or use of offensive language in a manner so as to cause public unrest.
In terms of specific language, the statute makes it a disorderly persons offense for someone to:
Engage in conduct intended to cause public inconvenience, annoyance or alarm, or recklessly creating a risk thereof through either (a) fighting, threatening, [or engaging in] violent or tumultuous behavior or (b) by creating a hazardous or physically dangerous condition through actions having no legitimate purpose; or
To use unreasonably loud and offensively course or abusive language in public for the purpose of offending the sensibilities of a hearer or in reckless disregard of the probability of so doing given who is present and circumstances.
The first thing that should be emphasized is that you cannot be convicted for either variety of disorderly conduct absent purposeful conduct. What this means is that you must have possessed the purpose specified in the statute, for example, to cause public inconvenience, annoyance or alarm, or you cannot be found guilty for improper behavior. The same holds true in terms of offensive language if the prosecutor is unable to prove that your objective was to offend someone. The only exception to this requirement is where the accused acts recklessly in terms of causing the prohibited result. This involves his/her engaging in the conduct knowing that there is a substantial and unjustifiable risk of public inconvenience, annoyance or alarm (i.e. for improper behavior violation of 2C:33-2), or offending the sensibilities of someone who would hear his language (i.e. for an offensive language violation).
Important Case Law: Disorderly Conduct
There are several key cases that illustrate how this law is to be applied by municipal courts in Monmouth County. The first important case is State v. Stampone, which applies to disorderly conduct based on improper behavior. In Stampone, a testy encounter culminating in the accused almost striking the police while slamming his car door. The Appellate Division held that this was no disorderly conduct because there was no one from the public in the area who could be inconvenienced, annoyed or alarmed. The fundamental principle to be taken from this case is that you cannot be convicted under N.J.S.A. 2C:33-2 for improper behavior unless there is a member of the public in the area. State In Interests of H.D. is the most cited case on foul or offensive language violations. This case illustrates the reoccur principle that you cannot have a violation unless the utterance actually offends the sensibilities of the listener.
Penalties that Apply to Disorderly Conduct
Disorderly conduct is a petty disorderly persons offense that can result in a wide range of penalties.
The authorized punishment that a judge may impose in Howell, Middletown, Tinton Falls, Marlboro, Red Bank or another town can include:
Fines. A fine of up to $500 plus assessments for the Safe Neighborhood Fund of $75, Victims of Crime Compensation Commission of $50, and court costs of $33 apply. The court may also order payment of restitution for medical bills, damaged property, etc., resulting from the violation.
Jail. The jail exposure is up to six (6) months for a disorderly persons offense and thirty (30) days for a petty disorderly persons offense.
Other Potential Penalties. A period of probation may be imposed in the event of conviction for disorderly conduct. Another potential recourse is a no contact or not entry order from the Court which prohibits contact with the "victim" or reentry (i.e. trespass) to the site of the violation.
An individual will also have a criminal record upon pleading or being found guilty of this offense. The charge is no removable through expungement until at least five (5) years have passed. In the interim, the conviction will show up on any criminal background check performed by employers, licensing boards, immigration authorities or any other entity looking into your prior history.
Experienced Disorderly Conduct Defense Attorneys
N.J.S.A. 2C:33-2 is intended to counteract disruptive and potentially explosive behavior in society. Whether fueled through intoxication, anger, or merely a lapse in judgment, conduct that crosses the line results in issuance of a summons or complaint for disorderly conduct.
We can offer you skilled representation in the defense of any disorderly conduct charge including a complaint in higher volume 2C:33-2 venues like:
Belmar Disorderly Conduct
Manasquan Disorderly Conduct
Holmdel Disorderly Conduct
Howell Disorderly Conduct
Lake Como Disorderly Conduct
Long Branch Disorderly Conduct
Asbury Park Disorderly Conduct
Ocean Township Disorderly Conduct
Red Bank Disorderly Conduct
Sandy Hook Disorderly Conduct
Sea Bright Disorderly Conduct
Middletown Disorderly Conduct
Wall Township Disorder Conduct
Sea Girt Disorderly Conduct
The attorneys at our firm have consistently been successful in averting negative outcomes in disorderly conduct cases. It is therefore in your best interests to take advantage of a free consultation with a defense lawyer on our staff and learn what we believe can be achieved on your behalf. A lawyer is available now to assist you.