Drug Paraphernalia Charge in Monmouth County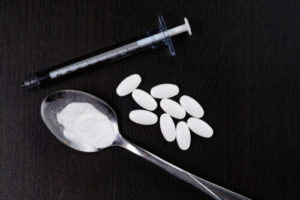 A drug offense frequently encountered in our criminal defense practice is "use or possession with intent to use drug paraphernalia." While there are certainly instances where a paraphernalia charge is filed by itself, the more common scenarios is for our lawyers to be defending this charge in tandem with a companion CDS offense. While there is a perception that a drug paraphernalia offense is inconsequential, that could not be further from the truth as a conviction on a N.J.S.A. 2C:36-2 charge results in a criminal record, fines and a mandatory driver's license suspension. The flip side of this statement is that that attorneys at The Law Offices of Jonathan F. Marshall are successful in preventing negative consequences like these for most of our paraphernalia clients. Our firm is ready to accomplish the same for you in Ocean, Atlantic Highlands, Neptune, Eatontown, Marlboro, or another venue in Monmouth County. Call our Freehold office or Red Bank office for immediate assistance from an experienced drug paraphernalia lawyer.
Possession & Use of Drug Paraphernalia
While an object like a pipe, hypodermic needle, bong, or rolling papers are associated with drug use, the truth is that the paraphernalia law — N.J.S.A. 2C:36-2, encompasses a broad range of items. The statute, which is titled "use or possession with intent to use drug paraphernalia", provides that:
"drug paraphernalia [includes] all equipment, products, and materials of any kind that are used, or intended for use, in planting, propagating, cultivating, growing, harvesting, manufacturing, compounding, converting, producing, processing, preparing, testing, analyzing, packaging, repackaging, storing, containing, concealing, ingesting, inhaling, or otherwise introducing into the human body a controlled dangerous substance…"
N.J.S.A. 2C:36-2 then goes on to set forth specific forms of paraphernalia that fall within the law, including "pipes, water pipes, carburation tubes and devices, smoking and carburation masks, roach clips, miniature cocaine spoons and vials, chamber pipes, carburetor pipes, electric pipes, air driven pipes, chillums, bongs, and ice pipes of chillers."
What Is Considered in Determining Whether Something is Drug Paraphernalia? Many of the aforementioned objects have non-illicit uses, requiring the statute to explain when a seemingly innocent object becomes paraphernalia. A prosecutor can use statements made by the owner of the object (or person in control of the object) in regards to its use. The proximity of the suspected paraphernalia to any illegally possessed controlled dangerous substances (CDS) can also qualify an object as paraphernalia (for example, a bent spoon next to a bag of heroin). Also, the prosecutor can use any CDS residue or illegally possessed CDS found on the object, or any circumstantial or direct evidence illustrating the intent of use by the owner or operator of the object to qualify the object as paraphernalia. Finally, any instructions found with the object, or any expert testimony referring to its use is also admissible. All of these factors are taken into consideration by a municipal court judge sitting in a town like in Middletown, Tinton Falls, or West Long Branch, to determine whether the intent of the owner/controller was illicit or non-illicit.
Penalties & Sentencing. A conviction under N.J.S.A. 2C:36-2 is a disorderly persons offense, which can result in up to six (6) months in jail and up to $1,000 in fines. Another significant ramification is the mandatory license suspension. In this regard, anyone found guilty of possession or use of drug paraphernalia is subject to a drivers license revocation of at least six (6) months and there is no provision for a conditional license in New Jersey. The only way to avoid the suspension upon conviction is through a presentation of substantial hardship to the Court.
Howell NJ Drug Paraphernalia Lawyers
As the largest criminal firm in the county, we have occasion to appear in just every court within this jurisdiction from time to time. Some courts are busier than others resulting in our routinely appearing there. Howell, Wall and Freehold would definitely fall within this realm. In fact, Matthew Dorry previously served as prosecutor in both Howell and Wall. Mr. M Dorry and the other members of our defense staff are qualified to protect your interests and serve you well. If you would like to discuss your case with one of our Howell NJ Drug Paraphernalia Lawyers, call us any time of day or night for a free of charge.