Charged With Credit Card Fraud in Eatontown, Freehold, Ocean Township, Tinton Falls or Another Municipality in Monmouth County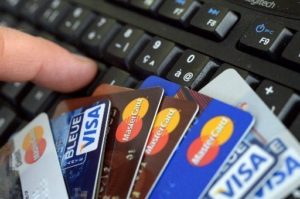 Contact The Former Monmouth County Prosecutors At Our Firm For Immediate Assistance From A Skilled Defense Lawyer
Monmouth County has a significant number of credit card offenses every year. The largest segment involves some form of credit card fraud although many N.J.S.A. 2C:21-6 theft offenses are also filed. Municipalities like the Borough of Eatontown, Tinton Falls, Ocean Township, Holmdel and Freehold are major stakeholders in these statistics as the home major malls and department stores like Nordstrom, Lord & Taylor, Macy's, Target, Sears and JCPenny.
If you were arrested or charged with credit card fraud in one of these towns or any other municipality in the county, including Manalapan, Wall and Long Branch, a lawyer at The Law Offices of Jonathan F. Marshall is ready to help you. Our staff, which is the largest criminal defense team in the region, includes several former prosecutors in the area and experienced attorneys with over 100 years in practice combined. We are prepared to put our knowledge and skills handling case in the area and at the Monmouth County Superior Court so that life changing consequences are averted. In many cases, in fact, a record is avoided altogether if our attorneys are able to secure a downgrade or admittance into a diversionary program such as Pre-Trial Intervention. To speak to an attorney immediately in a free consultation, call our Freehold or Red Bank Office at 732-462-1197/732-450-8300.
Charged With Credit Card Fraud in Monmouth County
Under N.J.S.A. 2C:21-6, there are several ways an individual can commit credit card fraud or theft. The first way is to make false or fraudulent statements in order to obtain a a credit card. A second form of this violation is committed when a merchant fraudulently inflates or fabricates charges, or falsely represents that goods or services were provided. Another category of offense arises where a cardholder charges a Visa, Mastercard, Macy's, American Express or other card knowing that it is invalid (e.g. expired, forged, revoked). A fourth basis for arrest under this statute is to be in possession of counterfeit credit cards, instruments to produce such items or something of value (e.g. money, goods, etc.) that was acquired as a result of credit card fraud. The fifth and final form of this offense results where someone furnishes, possesses or uses a fictitious credit card (e.g. counterfeit, altered, forged, lost, stolen, etc.).
Credit Card Theft
The offense of credit card theft is also contained in N.J.S.A. 2C:21-6. In this regard, there are six (6) ways an individual may commit credit card theft under subsection (c), including:
Using or stealing a credit card without the owner's consent;
Taking a credit card that was delivered in error (i.e. identity or address of cardholder was wrong);
Selling or buying a credit card from a party other than the issuer;
Obtaining a credit card as security for debt with the intention of defrauding either the issuer or a provider of money, goods or services;
Falsely Making or Embossing Credit Card; or
By signing a credit card without authorization.
Penalties for Credit Card Fraud and Theft
An arrest under N.J.S.A. 2C:21-6 can result in being charged with either a fourth degree crime or third degree crime. These are both indictable offenses in New Jersey, in other words, charges that result in a felony record and exposure to a state prison sentence. Third degree credit card fraud carries up to 5 years of incarceration and fine that can reach $15,000. Fourth degree credit card fraud results in a maximum jail term of 18 months and possible fines of $10,000. The most serious grade of credit card fraud is a second degree crime. You are exposed to a fine of up to $150,000 and 5-10 years in prison.
Ocean Township NJ Credit Card Attorney
Credit card fraud is an offense that is fairly common and on the rise given advances in technology and online purchasing. Every attorney at our Monmouth County firm knows this well given our presence in this market for several decades. Whether you were arrested in Keansburg, Hazlet, Howell, Middletown or another locale, our staff is prepared to fight on your behalf. An attorney is available to discuss your matter 24/7 at 732-462-1197 or 732-450-8300. Initial consultations are always without charge.
Related Theft & Fraud Pages & Posts To Assist You
Credit Card Theft Attorney in Monmouth County New Jersey