Manalapan NJ Stalking Defense Attorney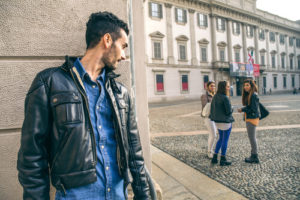 As a result of several highly publicized tragedies, the offense of stalking has received considerable attention. Whether it stems from a domestic relationship, the internet, GPS, electronic devices or some other scenario, unwanted attention that is excessive can lead to a charge for harassment, invasion of privacy or even stalking. What is key in determining whether conduct has crossed the line is whether a reasonable person in the position of the "victim" would feel threatened. When conduct enters in this realm, it can result in serious penalties including significant state prison time. It also frequently results in entry of a final restraining order. It is clearly in your best interests to seek representation of an experienced stalking defense attorney given these potential ramifications. Here at The Law Offices of Jonathan F. Marshall, we are long time members of the Monmouth County defense bar with several former prosecutors on staff. We have been representing individuals charged with criminal offenses in the Superior Court and in towns like Avon, Aberdeen, Brielle, Union Beach, Red Bank and Neptune. To learn what our lawyers can do to overcome this charge, call our Freehold Office or Red Bank Office any time 24/7.
Charged With Stalking Under N.J.S.A. 2C:12-10
The New Jersey Stalking Law is one area of the criminal code that has undergone repeated revision. Most recently, the statute was amended in recognition of the ability of individuals to stalk through electronic means, including the internet, tracking devices, and smart phones. In terms of specific language, N.J.S.A. 2C:12-10 provides, in pertinent part, that:
a. As used in this act:
"Course of conduct" means repeatedly maintaining a visual or physical proximity to a person or repeatedly conveying, or causing to be conveyed, verbal or written threats or threats conveyed by any other means of communication or threats implied by conduct or a combination thereof directed at or toward a person.
"Repeatedly" means on two or more occasions.
"Immediate family" means a spouse, parent, child, sibling or any other person who regularly resides in the household or who within the prior six months regularly resided in the household.
To be guilty of stalking in New Jersey, the actor must purposely or knowingly engage in a course of conduct directed at a specific person. It make no difference, however, that the emotional unrest and fear was unintended; all that is required in terms of intent is a purpose to engage in the conduct. Whether the action of the defendant constitute stalking then turn on whether a reasonable person in the victim's shoes would fear for their safety or the safety of a third person.
Examples of Stalking. A husband's repeated cursing, talking about wife's violent death, and statement that she should burn and rot in hell, were enough to support stalking conviction. Placement of cameras and microphones in a spouse's bedroom coupled with statements to never let her leave where sufficient to support a charge of stalking. Unwanted communications, appearances at place of business, and uninvited drives by in a car can provide ample basis for stalking where reasonable person would feel threatened.
Grading & Penalties. Stalking is a fourth degree crime unless certain circumstances exist. Fourth degree stalking results in punishment that includes up to 18 months in prison and a $10,000 fine. This offense is enhanced to a third degree crime where the conduct: (1) is in violation of an existing court order (e.g. restraining order); (2) constitutes the second or subsequent offense of stalking against the same victim; or (3) occurs when the defendant is incarcerated or on probation/parole for an indictable felony offense. Third degree stalking can result in a $15,000 fine and up to five (5) years in state prison.
Restraining Orders. As previously stated, there is a provision for a restraining order set forth in the stalking statute. In this regard, a conviction for stalking automatically acts as an application for a temporary restraining order and since the court has already found that an act of domestic violence has occurred (i.e. there was a conviction for stalking), entry of a final restraining order is typically a mere formality.
Hazlet NJ Stalking Lawyers
Stalking is definitely an offense that can cause serious issues. Prosecutors and judges tend to take this charge seriously given the pattern of obsession often involved with genuine stalkers. The wrong decision in selecting an attorney could certainly take you in the wrong direction in terms of conviction. The stalking lawyers at our firm have defended thousands of criminal cases in Monmouth County, including indictable felony crimes at the Superior Courthouse in Freehold. If you were arrested in Wall, Colts Neck, Fair Haven, Brielle, Middletown, Holmdel or elsewhere in this area for stalking, call our Red Bank Office or Freehold Office. A skilled stalking defense attorney will be happy to assist you.