Monmouth County Harassment Attorneys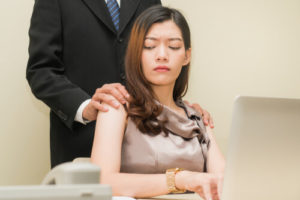 If you were arrested or charged with harassment in Monmouth County, we can assist you. Our firm, The Law Offices of Jonathan F. Marshall is an eight (8) attorney criminal defense team that includes several former prosecutors from the county. We have defended hundreds of cases involving harassment and similar charges in Sea Girt, Bradley Beach, Englishtown, Marlboro, Howell and other municipalities. Our lawyers have an extremely high rate of success in averting findings of guilt for harassment and other disorderly persons offenses. If you are interested in discussing how we can help you avoid a criminal record for harassment, as well as the penalties that apply under N.J.S.A. 2C:33-4, call one of our office in Red Bank or Freehold for immediate assistance. A Monmouth County Harassment Offense Defense Lawyer on our staff will be happy to provide a free initial consultation.
Charged With Harassment Under N.J.S.A. 2C:33-4
An offense that is common in municipal court is harassment in violation of N.J.S.A. 2C:33-4. Much like disorderly conduct, the Harassment Law is drafted broadly to capture many varieties of alleged misconduct including neighborhood disputes, excessive telephone calls, texting or emails, and incidents where someone is accused of domestic violence. It can arise as a result of communications, physical contact, annoyance, and threats that meet the requirements of this statute.
In order to obtain a conviction for harassment, the prosecutor must prove that, with the purpose to harass, the accused:
Made a communication anonymously, during inconvenient hours, or using offensive language knowing that it would have a high probability of causing annoyance or alarm;
Kicked, struck, shoved, touched in an offensive manner or threatened to do so; or
Engaged in a course of alarming conduct with the purpose to seriously annoy or alarm the victim.
Harassment is a disorderly persons offense except where the defendant is serving a term of imprisonment or on parole/probation for an indictable felony offense, in which case the violation is a fourth degree crime.
Harassing Communications
The first and most common variety of 2C:33-4 offense arises from communications that are harassing. It is important to emphasize that the accused not only has to engage in a prohibited communication but also needs to do so for the purpose of harassment. As long as the elements of the offense have been established, the annoyance from the communication need not be "serious" under State v. Hoffman. In addition, a single communication falling within (1) above suffices in establishing a violation; there need not be multiple communications to establish harassment based on communication under (1).
Offensive Physical Contact
The contact contemplated under N.J.S.A. 2C:33-4 is different from simple assault in that here there is no objective to cause bodily injury. Rather, the purpose of the poking or other touching is to harass or annoy the recipient. There must be some form of contact irrespective in order for an individual to be convicted of harassment based on physical contact/touching.
Course of Alarming Conduct
Harassment based on a course of conduct is probably the most abstract form of this offense. To counterbalance the open-ended nature of this type of harassment, our courts have imposed a requirement that the conduct constitute serious annoyance or alarm. In Hoffman, the court used the words "worry, trouble or offend" to describe this element. Unless the actions of the defendant rise to this level, he/she has not harassed anyone based on a "course of alarming conduct".
Penalties That Apply To A Harassment Offense
The penalties that may be imposed by the court at the time of sentencing depend on the grade of the charge.
The following is a breakdown of what someone faces:
Fines & Restitution. A fine of up to $500 and various financial assessments apply if someone is convicted of harassment as a disorderly persons offense. Fourth degree harassment carries a maximum fine of $10,000. Restitution may also be imposed.
Jail & State Prison. In terms of incarceration, a jail term of 30 days may be imposed in municipal court for this petty disorderly persons offense. The state prison term can reach 18 months for harassment in the fourth degree.
License Suspension. The court also possesses authority to impose a suspension on the defendant's license to operate a motor vehicle under N.J.S.A. 2C:43-2(c).
Restraining Orders. Violation of N.J.S.A. 2C:33-4 constitutes an act of domestic violence and, in fact, it probably is the most used basis for seeking a restraining order.
Monmouth County Harassment Attorneys
Our lawyers have a long track history of success defending this charge in Monmouth County, including in Belmar, Middletown, Holmdel, Ocean Township and Wall. If you were accused harassing a boyfriend/girlfriend, coworker, neighbor, or anyone other individual, we have the qualities needed to defend you. To speak to an attorney, call us at 732-462-1197 for a complimentary consultation in our Freehold or Red Bank office.