Charged With Harassment in Sea Bright New Jersey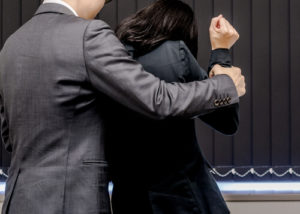 Our Former Monmouth County Prosecutors Are Ready To Provide A Thorough Defense To Your Sea Bright Harassment Offense
Innocent people are often charged with harassment by acquaintances, individuals they have dated, family members, neighbors and even spouses in Sea Bright. There are many reasons why someone can face a Sea Bright harassment offense in Sea Bright including misunderstandings, long-standing hostilities, for revenge, or even to get the upper hand in child custody battle or divorce. The situation is even more complicated when there are also allegations of domestic violence that result in issuance of a restraining order.
Irrespective of the nature of the allegations against you, you need to understand that a conviction for harassing someone can significant impact your future. The potential for negative consequences is even greater if you have been accused of domestic violence. A skilled attorney is the biggest tool you possess to avoid the pitfalls of a harassment offense in Sea Bright.
Our team of skilled harassment attorneys includes former prosecutors who are accomplished litigators that have been appearing in Sea Bright Municipal Court and throughout Monmouth County for over 100 years collectively. They know how to approach a harassment case so that you have every opportunity to escape a conviction.
If you have been charged with harassment in Sea Bright, you are encouraged to contact The Law Offices of Jonathan F. Marshall for a free consultation with one of our lawyers. A lawyer is available 24/7 at 732-450-8300 to help you.
Harassment Charge in Sea Bright New Jersey
Under N.J.S.A. 2C:33-4, a criminal offense for harassment in Sea Bright can result from:
Communicating with someone at inconvenient hours, or using offensive language that causes them to be annoyed or alarmed.
Kicking, shoving, striking or touching another in an offensive manner or threatening to do so,
Purposely doing anything else that causes a person to be alarmed or seriously annoyed.
Harassment can happen in a variety of ways:
Verbally – face to face communication, telephone conversation, etc.
Behaviorally – like when you chase someone down the street or block them from passing
Indirectly – by text, email, social media or through a third party
Some examples of harassing behavior including:
Sending threatening images to someone via social media
Sending threatening texts messages
Repeatedly sending someone emails, texts or calling them after they have asked you to stop
Posting or threatening to send out intimate or private images or information about that person without their consent
In order to prove harassment, it is not enough for the prosecutor to prove that you engaged in what might be considered harassing behavior, the prosecutor must also prove that you engaged in that behavior with the purpose of harassing the complainant.
What's more, the prosecution must also prove that the complainant was indeed sufficiently alarmed or annoyed by your behavior. What counts as a "sufficient" alarming or annoying behavior will generally depend on the circumstances, but the following factors may also be taken into consideration:
The age difference between you and the complainant
Gender dynamics
The nature and history of the relationship between you and the complainant
The difference in the size and strength between you and the complainant
Penalties for a Sea Bright Harassment Offense
Harassment is usually charged as a petty disorderly persons offense (a misdemeanor) in Sea Bright. The punishment that may be imposed in Sea Bright for a petty disorderly persons offense for harassment includes up to 30 days in jail, a fine of up to $500, possible loss of your driver's license, counseling, community service and/or a period of probation.
If harassment is committed when the accused is incarcerated or on probation or parole for a previous indictable offense, the offense escalates to a fourth degree crime. Fourth degree harassment is an indictable criminal charge that may only be dealt with at the Superior Court and can result in up to 18 months in prison and a fine of up to $10,000.
Allegations of Domestic Violence Involving Harassment in Sea Bright
One serious concern with a harassment charge is the ability of the complainant to obtain an immediate protective order referred to as a temporary restraining order if the incident involves "domestic violence". When this occurs, the accused faces both a criminal offense for harassment in Sea Bright Municipal Court and a restraining order hearing in family court.
Having a restraining order placed against you can be sincerely disruptive. You can be prohibited from going home to your house, from seeing your children, and may not be able to access your car, or frequent your place of employment, particularly if the complainant also works there. This is why having an experienced attorney who understands the nuances of a protective order and how to avoid the serious consequences associated with a protective order is extremely important.
Harassment Defense Attorney in Sea Bright
Although harassment may seem to be a minor offense, it can have serious consequences. This is why it is important to hire a savvy defense attorney if you have been charged with harassment in Sea Bright New Jersey. The Law Offices of Jonathan F. Marshall possesses a team of veteran criminal lawyers that have been appearing routinely in Sea Bright for decades. For a free consultation with a lawyer on our staff immediately, call us at 732-450-8300. Attorneys are available around the clock to take your call and initial consultations are free.
Related Sea Bright Legal Resource Pages & Posts