Sea Bright Criminal Defense Attorney

Sea Bright is another popular Jersey Shore summer destination where our attorneys have a long history of defending criminal charges. In years past, the police in the borough were some of the most aggressive in Monmouth County in terms of DWI and DUI arrests although that has tailed off more recently. Nonetheless, the Borough of Sea Bright remains a hotbed for offenses like disorderly conduct, drinking in public, possession of alcohol underage, and simple assault. The primary reason for the volume of disorderly persons offenses like these is the concentration of popular bars and beach clubs for a town with only about .73 square miles of land and 1,412 residents. Although the criminal charges we are referring to are misdemeanors under New Jersey Law, they nevertheless have the potential to significantly impact your life by virtue of the record, fines, probation, drug testing and jail that can results from a conviction.
At our firm, The Law Offices of Jonathan F. Marshall, we have a rich history of appearing in Sea Bright Municipal Court. The members of our team have been appearing in this court with success for over two second and have handled an immeasurable number of charges in this venue. This probably is only to be expected as we are the largest defense office in Monmouth County with several former prosecutors from the area on staff. Our attorneys are prepared to utilize all of their contacts and abilities to insure that you avoid a negative outcome. For a free initial consultation, a lawyer at the firm can be reached 24/7 at 732-450-8300.
Sea Bright Municipal Court Information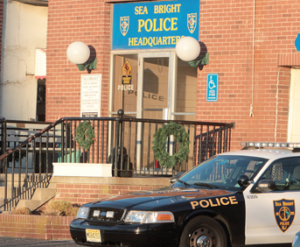 Sea Bright utilizes the municipal court facilities of Shrewsbury Borough to conduct its court sessions. Hearings of the Sea Bright Municipal Court are held at 419 Sycamore Avenue, Shrewsbury, New Jersey 07702. The office of the court is located at 315 East Main Street, P.O. Box 370, Oceanport, NJ 07757 and is open weekdays from 8:30 a.m. to 4:30 p.m. Carol Smith, the Court Administrator of the Sea Bright Municipal Court, may be reached at 732-222-6517 during these hours for questions, to discuss calendar matters (e.g. inability to appear), or to arrange payments. Honorable Nicole Sonnenblick, the judge of the court, conducts sessions on the 1st & 3rd Thursday of the month at 8:00 a.m. For additional information, you may refer to the Sea Bright Municipal Court website.
It is important to keep in mind that the jurisdiction of the municipal court is limited in nature. There is no authority to decide crimes of the first, second, third or fourth degree crimes. Jurisdiction to preside of such matters is limited to the Superior Court located in Freehold. If you were arrested for aggravated assault, possession of prescription pain medication, heroin or cocaine, intent to distribute marijuana or for make a terrorist threat, for example, your case would not be decide in Sea Bright Municipal Court although your initial arraignment might be conducted in the venue.
Sea Bright DWI Lawyers
The most recent statistics published by the New Jersey Administrative Offices of the Courts reflected 41 DWI, DUI and Breath Test Refusal charges filed in Sea Bright. There is no question that these offenses, to a substantial degree, arose along Ocean Avenue. This is the only roadway access to or from Sea Bright for those Monmouth Beach/Long Branch to the south, Highlands/Sandy Hook to the north, and Rumson/Red Bank to the east. The highway is a single lane and allows for easy targeting of motorist who have just got done drinking at a local restaurant, bar, or on the beach. The good news is that our Sea Bright DWI Lawyers have been actively defending driving while intoxicated and under the influence of drugs cases in this town for well over 20 years. We know what it takes to get a DWI dismissed and are prepared to undertake every effort to insure that you can achieve such an outcome.
Sea Bright NJ Criminal Lawyer
An extreme amount of criminal offenses are signed in Sea Bright including 553 disorderly persons offenses last year. This is an extremely high number for a town with population of less than 1,500. If you were arrested and/or charged with disorderly conduct, having false identification, or any other violation in the Borough of Sea Bright, call our Red Bank Office today. An attorney with years of experience appearing in Sea Bright Municipal Court and in defending indictable crimes is available to speak to you free of charge.
Additional Sea Bright Criminal Resource Pages & Posts