Charged With Possession Or Use Of A Fake Id in Sea Bright New Jersey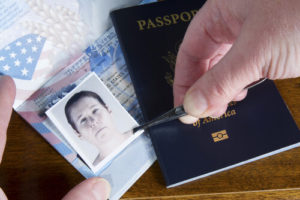 Former Prosecutors At Our Criminal Defense Firm Are Ready To Defend You
There are many bars and establishments that serve alcohol in Sea Bright and they are a major attraction to those who are underage to purchase or consume alcohol. Use of a fake driver's license and other identification ("Id") is commonplace at these watering holes. Whether you were charged of possession or use of a fake Id at Donovan's Reef, Rory's Pub, the Dive or another location, selecting the right defense attorney to defend you in Sea Bright Municipal Court is crucial.
Here at The Law Offices of Jonathan F. Marshall, we feature a team of eight criminal lawyers that have been successfully defending Sea Bright fake id charges for decades. The track record of downgrades and dismissals achieved by our former prosecutors in underage drinking, fake id and related disorderly persons offenses should provide you with the comfort of knowing you are in good hands.
To obtain a free initial consultation from a lawyer with the know how to help you, contact our office. Attorneys are available around the clock at 732-450-8300.
How Does The Prosecutor Prove A Sea Bright Fake ID Offense?
If the charge is filed under N.J.S.A. 33:1-81, "titled misrepresenting age to induce sale or delivery to minor", a conviction results in a disorderly persons offense. In order to prove this offense, the prosecutor must establish, beyond reasonable doubt, that someone under legal drinking age (i.e. 21 years of age) possessed, exhibited or otherwise used a false id to:
Purchase alcoholic beverages;
Gain access to an establishment that sells alcoholic beverages; or
Induce someone to sell, serve or deliver alcoholic beverages to a person under the legal age.
There are also two additional laws, N.J.S.A. 2C:21-2.1 ("Offenses involving false government documents") and N.J.S.A. 2C:28-7 ("Tampering with public records or information"), that often come into play in a Sea Bright fake Id case. While these charges are indictable in nature (i.e. felony crime of the fourth or third degree), they are typically issued secondary to a 33:1-81 offense.
What Are the Penalties And Collateral Consequences of a Conviction in Sea Bright For Possessing A Fake Id?
A violation of 33:1-81 is a disorderly persons offense that falls squarely within the jurisdiction of the Sea Bright Municipal Court. A false government document or tampering with public records charge is a felony that can only be dealt with by the Monmouth County Superior Court. The penalties for a disorderly persons offense under 33:1-81 include a fine of not less than $500 and a six month suspension of your driving privileges. If you are convicted in accordance with 2C:21-2.1 or 2C:28-7, the penalties are much more significant and include the possibility of a lengthy period of incarceration.
Are There Ways To Avoid A Fake Id Charge in Sea Bright NJ?
Yes. In addition to our lawyers having the ability to secure a downgrade to a Sea Bright municipal ordinance violation 57-16(B) and/or dismissal of a Sea Bright fake id charge, there is also the opportunity to seek a conditional dismissal of the offense. This program is for first time offenders and requires completion of a period of probation which, upon successful completion, results in dismissal of the fake driver's license violation.
Fake ID Lawyers in Sea Bright NJ
A misstep in a fake id case can have much bigger ramifications that you think so it is always wise to consult with a knowledge criminal attorney before make any decisions that can potentially jeopardize your future. The lawyers at our firm, The Law Offices of Jonathan F. Marshall are available to provide the sound legal guidance required in order for you to protect your record and driver's license. To discuss your Sea Bright fake id case with a lawyer who routinely appears in Sea Bright Municipal Court and defends alcohol related charges, contact our office anytime of day or night. Attorneys are available to speak to you without charge at 732-450-8300.
Additional Sea Bright Criminal Defense Pages & Posts To Assist You
Sea Bright NJ Underage Alcohol Possession Defense Lawyers