Long Branch NJ Fake ID Attorney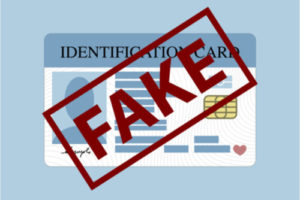 Monmouth County is the home of many popular night clubs and bars. It is a well known fact that many individuals under twenty-one (21) years of age attempt to use fake or fraudulent identification ("ID") to gain access to establishments like Avenue Le Club in Long Branch. The issue is so prevalent that several bars like actually employee off duty police officers in or near the entrances to flag those attempting to use fake ID to inflate their age or to pose as someone who is actual of legal age to consume alcohol. The attorneys at our firm have probably handled upwards of a thousand of these cases over the 100 plus years in practice shared by our lawyers. Several members of our defense team have also prosecuted many cases involving fake ID charges over the years. If you were arrested, received a criminal complaint or were otherwise charged with underage drinking or possession of a fake ID in Asbury Park, Middletown, Red Bank, Brielle or Highlands, call one of our offices for immediate assistance. An attorney on our staff is available 24/7 to assist you and the consultation is free of charge.
Charged With Possession of a Fake ID
Whether its a driver's license, passport, or college identification card, possession of identification to allow you to use someone's entity (e.g. friend, sister, brother, cousin, etc.) or to make it look like you are over 21 years old is illegal. This tactic is so prevalent in the following towns that we have published articles to address the practices in these locations including:
Manasquan Fake ID Charge
Belmar Fraudulent Identification
Holmdel Arrest for False ID
Lake Como Fake ID Offense
Ocean Township False Identification Arrest
Asbury Park Fake ID Lawyer
Sea Bright NJ Fake ID Attorneys
Enforcement in these municipalities is especially keen given the night life and concentration of college students and young adults in this hotspots. The Jersey Shore also has a significant amount of these violations in other communities and this page is intended to provide you with insight as to what you are up and against, as well as what our criminal firm can offer to help you.
There are generally three (3) different law that come into play with fake/false ID charges. The following is a breakdown of each statute including the consequences of a conviction. Please note that all three (3) violations result in a criminal record absent a dismissal or downgrade of the charge to a municipal ordinance.
Use of Possession of a Fake ID. Under N.J.S.A. 2C:21-2.1, it is illegal to exhibit, display, possess a writing that purports to misrepresent an individual's personal information. A driver's license specifically falls within this prohibition and use of such a document is a third degree crime punishable by a $15,000 fine and up to 5 years in state prison. Possession is a fourth degree crime that results in the same penalties as (2) which follows.
Tampering With Public Records. In accordance with N.J.S.A. 2C:28-7, it is illegal to modify a driver's license, passport, birth certificate or other public record. This violation is frequently issued when an individual is in possession or uses a driver's license that is counterfeit, altered, or other purports to misrepresent facts. A conviction for this offense is a disorderly persons offense, a misdemeanor, that can result in a fine of up to $1,000 and jail sentence of 6 months.
Identity Theft. When someone use the identification of another person, the conduct can result in an identity theft offense. This violation has the potential to result in very serious penalties although it is commonplace for the Monmouth County Prosecutor's Office to downgrade and remand this offense back to municipal court if it involves a minor attempting to acquire alcohol or gain admission to a location where it is served.
Driver's License Suspension
In addition to the penalties discussed briefly above, the judge in Sea Girt, Long Branch, Bradley Beach, Sea Bright or West Long Branch has discretion to suspend your driver's license. In some cases, the revocation of your privilege to drive is mandatory. An amendment of the complaint to municipal ordinance violation can frequently negate this consequence.
Red Bank Fake Id Lawyers
As the largest defense firm in the county with an office in downtown Red Bank, we definitely have occasion to defend false and fake ID charges in the town. We can routinely be found appearing this municipal court as well as others around Monmouth County. If you were like to discuss an arrest and/or charge involving allegations of possession or use of a false ID, call our Freehold Office or Red Bank Office for immediate assistance. The lawyers at the firm will be happy to go over the law and how we can achieve a favorable outcome on you or your child's behalf.