Charged With Cocaine Possession or Distribution of Cocaine in Sea Bright, NJ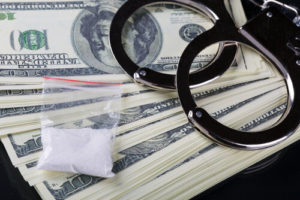 Our Former Prosecutor Are Well Equipped To Defend Your Sea Bright Cocaine Charge
A cocaine charge in Sea Bright or any other municipality is an extremely serious offense whether it involves allegations of distribution, possession with intent to distribute or even personal possession of the drug. Every cocaine case involves a felony crime of at least the third degree and exposure to a minimum of 3-5 years in prison. It is therefore abundantly important for someone charged with a Sea Bright cocaine offense to retain a highly skilled criminal attorney.
Here at The Law Offices of Jonathan F. Marshall, our Monmouth County Criminal Lawyers have over a 100 years of combined experience defending cocaine possession and distribution of cocaine charges at the Superior Court in Freehold. In most instances, a lawyer will have also served as a prosecutor in the past. Their knowledge and skills in defending cocaine cases has been honed of decades so that our clients have every chance of escaping a conviction and penalties for possessing, distributing, selling or possession with intent to distribute cocaine.
Attorneys are available to discuss cocaine and other charges in a free consultation around the clock by contacting our Red Bank Office at 732-450-8300.
Possession of Cocaine & Distribution of Cocaine in Sea Bright New Jersey
Cocaine has long been classed as a Schedule II controlled dangerous substance ("CDS"). It is illegal under N.J.S.A. 2C:35-10 to knowingly possess cocaine in any quantity. It is also a crime to distribute, sell or possess cocaine with intent to distribute in accordance with N.J.S.A. 2C:35-5. When someone is charged in Sea Bright under either of these laws, they face a felony crime of the first degree, second degree or third degree depending on the nature of the conduct and quantity of the drug.
It is a third degree crime to possess cocaine for personal use in violation of 2C:35-10. The penalties for third degree possession of cocaine includes 3-5 years in prison, a fine of up to $35,000 and a mandatory driver's license suspension for 6-24 months.
When someone is accused of selling or possession with intent to distribute cocaine in Sea Bright, they are exposed to even more severe penalties. It is a first degree crime to distribute 5 ounces or more of cocaine resulting in a potential fine of up to $500,000 and 10-20 years in prison. Distributing or selling cocaine in a quantity of at least one-half ounce but less than 5 ounces is a second degree crime that results in a fine of up to $150,000 and 5-10 years in prison. It is a third degree crime if the the quantity possessed for distribution is under one-half ounce. The penalties for this grade of offense include a fine that can reach $75,000 and 3-5 years in state prison.
In addition to the penalties previously set forth, N.J.S.A. 2C:35-7 and 2C:35-7.1 impose enhanced penalties when someone sells or distributes cocaine in a school zone or within 500 feet of a public park in Sea Bright. The consequences include mandatory periods of parole ineligibility.
Defending Cocaine Charges in Sea Bright New Jersey
There are several possible defenses that may be employed by a skilled defense lawyer that can result in the charges being downgraded or dismissed, or that will, at the very least, minimize the penalties you will face if convicted of a cocaine charge.
Furthermore, if you have no prior offenses, you may be eligible for pretrial intervention. This is a diversionary program that will allow you to pay some fines and be given probation for a period of 6 months to 2 years. After which, the cocaine charges will be dropped, provided that you have fulfilled all of the conditions of your probation.
Sea Bright NJ Cocaine Defense Attorney
If you have been charged with possession or distribution of cocaine in Sea Bright New Jersey, an experienced defense attorney can prove to be invaluable in averting the ramifications of a guilty plea or finding. An accomplished cocaine lawyer can also offer insight as to the potential defenses in your case and other aspects of the charge. The team of veteran litigators at The Law Offices of Jonathan F. Marshall have exactly what you need in this regard with over a century of combined experience handling drug possession and CDS distribution offenses in Monmouth County. To speak to one of the the lawyers at the firm immediately, call 732-450-8300. Attorneys are available 24/7 to provide a free consultation.
Additional Sea Bright Legal Resource Pages & Posts To Assist You
Sea Bright Traffic Offense Lawyer