Monmouth County Restraining Order Defense Lawyers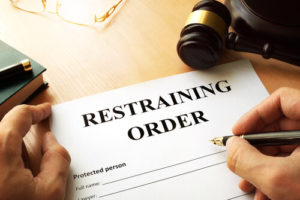 Judges in Freehold and other Monmouth County cities and townships can issue restraining orders that restrict many activities of individuals who have been accused of violence, threats or other dangerous acts against family members or domestic partners. The allegations do not have to be proven for the court to issue a temporary restraining order. The order can place costly burdens on the defendant.
A family member's unproven allegations could bar you from access to your home and children, deprive you of other possessions, and require you to pay child support. If you are the target of a temporary restraining order, you should talk with an experienced Monmouth County criminal defense attorney to understand how to respond. A knowledgeable Freehold defense lawyer may be able to have a temporary restraining order (TRO) lifted or prevent a final restraining order (FRO) from being issued or being overly restrictive.
In Monmouth County, the Law Offices of Jonathan F. Marshall can protect your rights and work to prevent you from being subjected to unwarranted and unnecessary restrictions against you and your interests. Our law firm offers an unmatched team of domestic violence defense attorneys. The unique credentials our firm offers include:
More than 200 years of combined experience successfully defending individuals across New Jersey who were facing criminal charges, including domestic violence charges
10 defense attorneys who have dedicated their legal practices exclusively to standing up for the accused and protecting their rights
Attorneys who are certified criminal trial attorneys. Certification is granted by the Supreme Court of New Jersey to designate attorneys who have specialized training in an area of law. It's a distinction that fewer than 2% of licensed attorneys in New Jersey have achieved
Attorneys with backgrounds as former prosecutors and public defenders from across New Jersey whose experience includes leading a Domestic Violence Unit, Guns Task Force, Major Crimes Bureau, Special Operations, and a Trial Division
24/7 availability in Monmouth County to respond to your need for legal representation
Do not face a Monmouth County judge on your own if the court is considering issuing a restraining order against you. Contact the Law Offices of Jonathan F. Marshall in Freehold for assistance with a TRO issued in a Red Bank, Asbury Park, Freehold or Middletown municipal court or a FRO being heard in Monmouth County Superior Court. The initial consultation is always free, and we will stand up for your rights. Call (877) 450-8301 or contact us online now.
How a Restraining Order Impacts Your Life in Monmouth County
Restraining orders are issued in Monmouth County in response to claims of domestic violence. A person who claims to be a victim of domestic violence or the police who arrest a person for domestic violence may seek a restraining order against the alleged perpetrator or defendant.
A municipal court or superior court judge who finds that the petitioner has presented credible evidence that an individual committed an act of domestic violence will issue a temporary restraining order (TRO). It is unusual for a court to turn down a request for a TRO from a law enforcement officer. Most requests from alleged victims of domestic violence are granted, too.
A petitioner may request and will likely seek several restrictions on the freedom of the subject of a TRO. Such an order may require that the defendant:
Not return to the scene of the alleged violence or other locations, such as the alleged victim's home or place of business
Not contact or communicate with the accuser or the accuser's relatives in person or via telephone, text, email, social media, or other forms of communication
Not possess a firearm or weapon
Reimburse the accuser for any medical expenses allegedly incurred due to injury blamed on the defendant
Pay the accuser temporary child support
Relinquish exclusive possession of the residence to the accuser
Relinquish temporary custody of children to the accuser.
Any TRO issued in Freehold or elsewhere in New Jersey requires the police officer who serves the order to seize all weapons in the defendant's possession as well as any permit or license allowing the individual to obtain a gun or firearm.
Once a TRO has been granted, a hearing will be scheduled before a judge to decide whether to grant a final restraining order (FRO). It will be scheduled within 10 days.
Most TROs are issued quickly, often after police are called to the scene of a domestic dispute or after someone swears out a complaint after a fight or a perceived threat. If you are the subject of a TRO, it is imperative that you abide by its restrictions and obtain the guidance of a qualified Freehold domestic assault defense lawyer right away.
Violating the requirements of a restraining order is considered contempt of court, a fourth-degree offense punishable by up to 18 months in jail and a fine of up to $10,000. In addition, substantially violating a TRO or doing so in any manner that is violent or can be interpreted as threatening increases the chances that the petition for a final restraining order will be granted.
A Freehold criminal defense attorney from the Law Offices of Johnathan F. Marshall will work to have a TRO against you lifted instead of becoming a final order. We can challenge the allegations against you, present evidence on your behalf, and explain why terms of the restraining order create an unreasonable hardship for you and should be lifted or modified.
Who May Seek a Restraining Order in Monmouth County?
A restraining order or protective order is a legal order issued by a state court that requires one person to stop harming another person. Restraining orders may be issued to individuals in New Jersey who demonstrate to a judge that they are victims of domestic violence.
A New Jersey resident may seek a temporary restraining order (TRO) in municipal court, such as in Belmar, Wall, Freehold, Middletown, Red Bank, Asbury Park or Howell. The hearing for a final restraining order (FRO) will be held in the Family Division of the Superior Court for Monmouth County (or the county in which the TRO was granted).
The alleged victim must only convince the judge that "a preponderance of evidence" indicates that the claims of domestic violence are true. This is a far lower standard than the standard of proof beyond a reasonable doubt required for a criminal conviction. In many cases, the target of a restraining order also faces charges of domestic violence.
Under New Jersey law, domestic violence is the commission of one or more of the following offenses against certain individuals:
Assault
Kidnapping
Criminal restraint
False imprisonment
Criminal mischief
Criminal trespass
Homicide
Under N.J. statutes, a domestic violence victim may be:
An adult (18 years old or older) or an emancipated minor who has been subjected to domestic violence by a:
Spouse
Former spouse
Any other current or former household member
Anyone who, regardless of age, has been subjected to domestic violence by a person with whom the victim has had a dating relationship
Anyone who, regardless of age, has been subjected to domestic violence by a person with whom the victim:

Has a child in common
Anticipates having a child in common because the victim or abuser is pregnant
Additional New Jersey laws define the crimes of domestic violence and domestic abuse against children and elderly and disabled adults.
How Our Monmouth County Attorneys Can Help You Fight a Restraining Order
It's not hard to obtain a temporary restraining order (TRO) in Monmouth County. Though a claim of domestic violence is usually a case of he said-she said, judges typically side with the complainant, particularly if they look to be physically injured or emotionally distraught. A police officer's request for a TRO follows an arrest for domestic violence, so granting it is almost automatic.
As your restraining order defense attorneys, our task it to keep a TRO from becoming a final restraining order (FRO). If an FRO already exists, we can work to have it lifted or to have certain restrictions modified. Mainly, we will make sure your side of the story is heard, understood and duly considered, and that all the facts are taken into consideration as the judge decides whether to grant an FRO.
If you are being held on a domestic violence charge, we will seek your release from custody. Then we'll get your statement and investigate further to prepare for the hearing, which will be scheduled for within 10 days of the TRO being issued.
Typically, a TRO can be lifted if the accuser cannot demonstrate that these three elements exist:
The alleged victim suffered a true, intentional incidence of domestic violence.
There is reasonable cause for the accuser to continue to fear for his or her safety.
There are prior incidents of domestic violence between the accuser and the defendant.
While a judge will certainly act to protect an individual who is being harmed or legitimately threatened, most judges also recognize that some couples fight and that some fights get out of hand. Ten days after an incident, the accuser may view the charges differently and may even wish to walk back some previous statements.
In some cases, there are witnesses. We will speak to any potential witnesses to the incident(s) in question, and present testimony that helps your case. We also will closely question any testimony presented against you. Our defense attorneys are skilled, experienced and compassionate negotiators. We can reach out to your accuser, if appropriate.
If the case involves a first-time domestic dispute that escalated, the judge may be convinced of the defendant's remorse and regret for an impulsive mistake and lift the TRO. If the accuser's claims are disputed or undercut by testimony, the judge may lift the TRO or reduce restrictions in an FPO.
We can often convince the court to make lighter restrictions, such as granting the defendant time with their children, if the defendant agrees to certain conditions, such as attending anger management classes and/or other counseling
A seasoned Freehold domestic violence defense attorney at the Law Offices of Johnathan F. Marshall can ensure your rights are fully protected and your side of the story is heard during a restraining order hearing in Monmouth County Superior Court. Our attorneys understand the leeway that New Jersey law allows judges in domestic violence cases. We have the established professional relationships in Freehold and Monmouth County necessary to seek the most favorable outcome available for you.
Most domestic violence cases pit one person's word against another's, and how people view heated moments can change over time. Every day in New Jersey, TROs are lifted and domestic violence charges are dropped because the defendant has retained experienced local legal representation.
Contact Our Monmouth County Restraining Order Defense Lawyers Today
If you are subject to a temporary restraining order (TRO) issued by a municipal court in Monmouth County, contact our experienced criminal defense attorneys in Freehold as soon as possible. It is a potentially costly mistake for anyone to face a final restraining order (FRO) hearing on your own. You have only 10 days to prepare, so seek the help of a qualified lawyer right away.
Your attorney from the Law Offices of Johnathan F. Marshall will work hard to make sure that you are not subjected to severe restrictions and costs through a final restraining order based on domestic violence allegations that have not even been proven.
The attorneys at the Law Offices of Jonathan F. Marshall in Freehold are ready to protect your rights and your freedom. Contact us as soon as possible about a restraining order and/or domestic violence charges originating in Belmar, Wall, Freehold, Middletown, Red Bank, Asbury Park, Howell or elsewhere in Monmouth County. Initial consultations are always free, and attorneys are available 24/7 to help you, including to get you released from custody.
To speak to a lawyer on our team immediately, call our Freehold office at 877-450-8301, or contact us online.