Charged With a Domestic Violence Criminal Charge or Issued a Restraining Order in Freehold New Jersey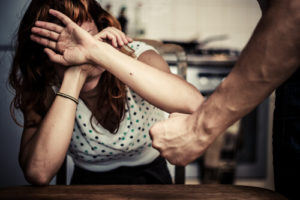 Whether you are on the brink of divorce, were involved in an argument with your significant other, or your Freehold domestic violence offense stems from an entirely different scenario, hiring the right defense lawyers to defend you is crucial. A criminal conviction for simple assault, harassment, terroristic threat or another type of domestic violation in Freehold NJ will leave you with a record that can affect your life for years, as well as potentially severe penalties. There is also the possibility of entry of a restraining order that will eliminate your ability to ever communicate with the complainant and negatively impacting you in many other ways. A skilled attorney is precisely what you need to eliminate these significant risks. The attorneys at our firm are savvy litigators with over 100 years of collective experience representing individuals arrested for a disorderly persons offense or crime of the second degree, third degree or fourth degree for domestic violence. We have also been defending Freehold temporary restraining orders for decades with success. To speak to a lawyer about your Freehold case, call 732-462-1197.
How Can A Freehold NJ Domestic Violence Offense Effect You?
If you are convicted for domestic violence based on a claim of an aggravated assault, stalking or another domestic violence criminal offense, you will certainly be negatively effected. A conviction can result in significant fines, probation, community service, a county jail or prison term, counseling and/or a driver's license suspension. You can also be subjected to entry of a temporary restraining order barring you from returning to your home, communicating with your children, etc.
Who Has Standing To Obtain A Freehold Restraining Order?
In New Jersey, domestic violence is defined as one of 14 criminal offenses perpetrated against a person who qualifies for relief under New Jersey's Prevention of Domestic Violence Act. An individual has standing under this law to obtain a temporary restraining order in Freehold or elsewhere if they are:
A present or former household member
A present or former spouse
A person with whom you have a child in common
Someone you have been in a dating relationship with
What Conduct Constitutes Domestic Violence?
As previously stated, an individual commits "domestic violence" if he/she commits one of 14 offenses against someone protected under the NJ Prevention of Domestic Violence Act. The following charges constitute an act of domestic violence:

Harassment
Simple Assault
Aggravated assault
Criminal mischief
Trespass
Kidnapping
Terroristic Threat
Criminal Restraint
Stalking
Lewdness
Sexual Assault
Criminal Sexual Contact
Burglary
False Imprisonment
These crimes are charged as either disorderly persons offenses (misdemeanors) and heard in the Freehold Township Municipal Court or an indictable crime (i.e. first degree, second degree, third degree or fourth degree) which is heard at the Monmouth County Superior Court, which is also in Freehold. Final Restraining Order Hearings are heard in the Family Division of the Superior Court in Freehold New Jersey.
Under New Jersey domestic violence laws, your accuser need only tell the court that they have been assaulted, harassed, or otherwise victimized by you for a temporary restraining order to be issued against you, even without your side of the story being heard.
A restraining order will prevent you from having any contact with the alleged victim, meaning that you may not be able to go home or have any contact with your children. In addition, the restraining order will come up in any background check and if you are under a restraining order, you will you be prohibited from owning or possessing a firearm.
Defending Domestic Violence Charges in Freehold, New Jersey
A domestic violence case usually begins with a 911 call being made by either a witness or the alleged victim. The police will then come to your home to investigate the circumstances of the alleged offense. In most cases, this means that someone will be arrested and removed from the home, especially if there is any evidence that an act of violence has occurred.
One defense to a domestic violence charge is that you did not commit the offense. In other words, you were falsely accused. Another defense to domestic violence is that whatever contact took place between you and the alleged victim was an accident or unintentional. The law doesn't punish you for accidents or for unintended consequences in criminal cases.
Self-defense or the defense of others is also an effective defense to a domestic violence charge. This essentially means that you were actually the victim and the alleged victim was actually the person who initiated the violence. In the state of New Jersey, you have the right to defend yourself and others, including your children, even against a spouse or intimate partner.
Freehold Domestic Violence Attorney
Police and prosecutors are trained in domestic violence and must comply with strict rules when it comes to arresting someone. The aftermath of a charge can be extremely intimidating and complicated, especially when a restraining order is signed, so it is important to be represented by a skilled attorney. Don't make the mistake of simply hoping that the prosecution will drop the charge because it is your first incident or because there has been a change in heart on the part of the victim. The complaint is controlled by the prosecutor so you want so protecting your interests so that a record and other consequences are averted. The stakes are even higher when a temporary restraining order has been issued. The attorneys at The Law Offices of Jonathan F. Marshall are here to serve you. To obtain a free consultation with one of the defense lawyers at the firm, call our Freehold Office at 732-462-1197.