Defending Clients Against Restraining Orders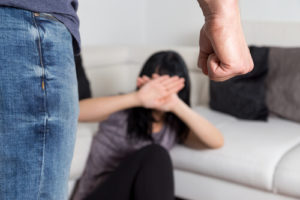 A domestic violence call in Wall New Jersey often results in criminal charges and even entry of a restraining order. Either of these circumstances can serious impact your life so hiring an attorney with the skill to win your domestic violence case is important. At The Law Offices of Jonathan F. Marshall, the lawyers on our defense team include former prosecutors, even two who have served in Wall Township, and a staff that has been defending domestic violence charges for over 100 combined in Monmouth County. To speak to an attorney about an assault or other domestic violence related offense, contact our Wall NJ Office at 732-449-2292.
Wall Township Domestic Violence Offense
Domestic violence is defined as the commission of one or more criminal acts against someone protected by Prevention of Domestic Violence including, but limited to, the following:

Simple Assault
Aggravated Assault
Harassment
Stalking
Terroristic Threats
Criminal Mischief
Burglary
If the "victim" can establish that he/she was the victim of one of the enumerated offenses and that they are in need of an emergency order of protection, a temporary restraining order will be entered over the telephone by the municipal court of Wall. Within approximately ten days thereafter, the defendant has the opportunity to challenge the temporary restraints at a final restraining order hearing. This the only opportunity to defeat efforts to make the restraints permanent so it is abundantly important to present your very best case at this proceeding. Failure to successfully defend the application results in the restraints becoming final and a permanent bar to any contact with the victim being imposed. An attorney who is highly skilled in defending restraining orders is the best weapon in our judgement in accomplishing this objective.
Wall New Jersey Criminal Charge for Domestic Violence
In addition to a restraining order hearing at the Monmouth County Superior Court, an individual can be exposed to a criminal charge for committing an act of domestic violence. If the violation involves a disorderly persons offense like simple assault or harassment, the charge is heard in Wall Municipal Court. Indictable crimes such as aggravated assault and terroristic threats can only be dealt with at the Superior Court in Freehold. This is where the criminal offense will be referred if the domestic violence involves a fourth degree crime, third degree crime or second degree crime. Our lawyers have extensive familiarity with the court system in both venues.
Wall Restraining Order Attorney – (732) 449-2292
Our Wall NJ Criminal Attorneys defend individuals facing criminal charges and restraining orders arising in Wall Township. A lawyer at The Law Offices of Jonathan F. Marshall is available to discuss all of the facts surrounding your case, advise your of you rights and options and to formulate a plan to effectively defend you. Whether the task involves helping you address domestic violence criminal proceedings or a restraining order hearing, you can rest assured that one of our lawyers will thoroughly protect your interests. To take advantage of a free initial consultation with a Wall domestic violence defense attorney at our firm, call us at 732-449-2292.
Additional Wall New Jersey Legal Resources You Can Browse