A Former Prosecutor In Wall NJ Is Prepared To Defend You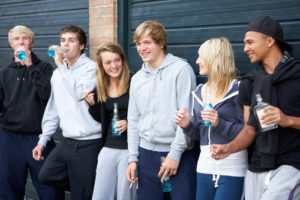 The Wall Township Police Department is one of the most aggressive in Monmouth County when it comes to combating underage drinking. Our lawyers know this as members of a defense firm that appears in its municipal court routinely but also since two of our members formerly prosecuted in the municipality. If you or your child was charged with possession of alcohol underage, an attorney at Marshall & Bonus has the qualifications to insure that their future is fully protected from a criminal record and other consequences. Contact our Wall Township Office to speak to a lawyer immediately by calling 732-299-2292.
Possession or Consumption of Alcohol By Someone Under Legal Drinking Age
Possession of alcohol and consumption by those under twenty one (21) is governed by N.J.S.A. 2C:33-15. This law makes it a disorderly persons offense for someone under legal drinking age to possess or consume alcoholic beverages (e.g. beer, fireball, vodka, etc.) in a public place, school or motor vehicle. The penalties for this violation include up to 6 months in the county jail and a fine of up to $1,000. There is also a driver's license suspension of 6 months that is triggered if the offense occurs in a car, truck or other motor vehicle.
Wall Township Municipal Ordinances Prohibiting Underage Drinking. The Wall Township Committee has enacted municipal ordinances regulating underage drinking including possession by those who are under 21 years old. The following are the ordinances that can come into play when a minor is found consuming or possessing alcohol:
§ 62-21. Purchase of alcoholic beverages by minors. No person under 21 years of age shall purchase, attempt to purchase, or have another purchase for him any alcoholic beverages on any premises licensed for the sale of alcoholic beverages.
§ 62-23. Use ofin public places. No person under 21 years of age shall possess, serve, sell or consume any alcoholic beverage in any public place within the Township. No person under 21 years of age shall be under the influence of any alcoholic beverage in any public place within the Township.
§ 62-24. Alcoholic beverages on private property. A. No person under 21 years of age shall knowingly possess or consume any alcoholic beverage while on private property within the Township.
Wall NJ Underage Alcohol Possession Attorney
No one needs a criminal record when they are just starting off in life, especially one for underage possession of alcohol. And the truth is that this consequences is totally unnecessary since our attorneys are able to avert such an outcome in almost all cases. It is therefore in your best interests to contact an attorney at The Law Offices of Jonathan F. Marshall if you would like to keep your record intact. Lawyers are available around the clock at 732-449-2292 for consultation. Call us now for the knowledgeable guidance you need.
Additional Wall New Jersey Legal Resources You Can Browse