Call The Former Prosecutor Of Wall For Assistance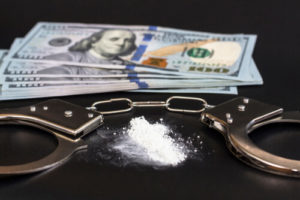 The popularity of cocaine has grown significantly in Wall New Jersey and other municipalities in Monmouth County. More and more individuals are charged with possession of this controlled dangerous substance ("CDS") every year. If you arrested for cocaine possession in Wall Township you are strongly encouraged to call the lawyers at The Law Offices of Jonathan F. Marshall. Our Wall NJ Criminal Attorneys include two who formerly prosecuted in the town and a team with over 100 years of collective experience. An attorney is available 24/7 to assist you by contacting our Wall Office at 732-449-2292.
Possession of Cocaine Offense in Wall New Jersey
It is a third degree crime under N.J.S.A. 2C:35-10 to possess cocaine in Wall or anywhere else in New Jersey. What this means is that while you were arrested and charged with possessing this drug following a motor vehicle stop or other encounter in Wall Township, you face a felony offense that must be directed to the Monmouth County Superior Court for handling. In order to convict you of this charge, the prosecutor must prove that you knowingly or purposely obtained, possessed cocaine. Possession can arise either actually or constructively under 2C:35-10. You actually possess a drug when it is in your direct custody and control. A prime example of someone possessing cocaine in this manner is someone who has this cds in his/her pocket, jacket, car or pocket book. Constructive possession is a less clear cut concept and arises where an individual does not have direct physical possession but is aware of the presence of the cocaine and has both the ability and intention to exercise control over it in the future.
Penalties for Possessing Cocaine. Third degree possession of cocaine as contrasted with distribution of the drug carries a fine of up to $35,000 and up to 5 years in state prison. An individual convicted for possessing cocaine also faces a mandatory driver's license suspension of 6-24 months. The Pretrial Intervention Program can provide a means of avoiding many of these consequences.
Wall NJ Possession of Cocaine Defense Attorneys
Possession of cocaine is obviously a very serious offense as a felony that carries years in state prison. Hiring a lawyer who is skilled cocaine charges like the team at The Law Offices of Jonathan F. Marshall can make all the difference in averting a conviction. To speak to an attorney who has defended many drug possession offenses in both Wall and at the Superior Court, call 732-449-2292. One of our attorneys will provide a thorough case review and advise you of what he believes are your best options for a successful defense.
Additional Wall New Jersey Legal Resources You Can Browse