Wall Township NJ Criminal Attorneys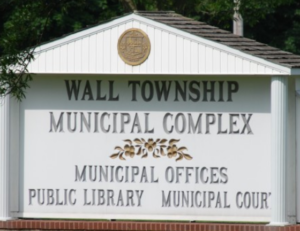 The Former Prosecutor of Wall New Jersey, Matthew Dorry, Is Ready to Defend Your Charge
Although Wall Township is barely in the top 10 in terms of population in Monmouth County, it is consistently in the top 3 annually for criminal charges and traffic offenses. There are many reasons for the high statistics including the presence of several major highways, 200 miles of roadway, an a police department that is extremely aggressive in enforcing the law.
We know these characteristics very well as a firm that handles as many cases in Wall as any and includes Jonathan F. Marshall, who has actually handled court sessions in the town as its prosecutor. The team at The Law Offices of Jonathan F. Marshall, includes a total of 8 criminal attorneys that have been defending individuals charged with almost any type of violation in the town over the last several decades. for decades. We are ready to represent you and a lawyer is available to discuss your options immediately by calling our Wall NJ Law Office. Call our criminal attorneys at 732-449-2292 for a free consultation.
Charges in Wall can come in many forms. The most serious are indictable offenses that fall of a first degree, second degree, third degree or fourth degree crime. Authority to decide an offense within these grades is reserved to the Monmouth County Superior Court which is located at 71 Monument Street, Freehold, New Jersey. Our staff has over 100 years of collective experience defending offenses at this venue and have even been employed within the court system. Whether you are facing an aggravated assault, heroin possession, theft by deception, violation of a restraining order or another offense, we possess the skills necessary to insure you have every chance of escape the penalties and consequences of a conviction. Less serious charges are referred to as disorderly persons offenses and these, along with traffic violations, are handled in the municipal court of Wall.
Wall Municipal Court Information
The Wall Municipal Court is located at 2700 Allaire Road, Wall, NJ 07719 and is open for operation from 8 AM to 4:30 PM Monday through Friday. To speak to the Court Administrator, Linda J.Smith, or another member of her staff, you can call 732-449-4666. All hearings and proceedings are conducted under the direction of the municipal court judge, Honorable Joseph Defino. Wall Municipal Court has weekly sessions on Tuesday at 8:30 AM and 1 PM and Wednesday at 8:30 AM. As you can tell from the fact that the court conducts three different sessions each week, there are a lot of criminal and Wall NJ DWI cases heard there. The township is almost always the top municipality in Monmouth County for driving while intoxicated filings with as many as 400 summonses being issued by the Wall Police Department and New Jersey State Police in a given year. The court also presides over misdemeanor cases involving offenses like possession of marijuana, disorderly conduct, harassment, underage alcohol possession and simple assault.
Wall Township Motor Vehicle Offenses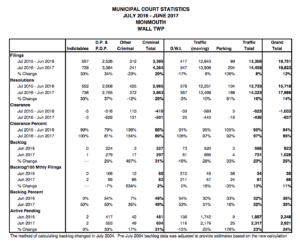 The biggest percentage of violations heard in the municipal court of Wall New Jersey concern motor vehicle summonses. Over 10,000 moving traffic offenses were filed in Wall for the one year period ending June 2014. While a large number of these summonses were issued on Route 35, Route 18, Route 34 and Route 70, there is little doubt that major roadways also played a role in the total. In this regard, Wall is the home of a stretch of the Garden State Parkway, as well as the Monmouth Service Area. Interstate 195 also passes through the municipality. Routine tickets issued by the Wall Police and NJ State Police patrolling these highways include not only speeding and careless driving but also more serious violations like driving while suspended, driving without insurance, reckless driving and possession of CDS in a motor vehicle. If you were issued a traffic summons in Wall NJ, we have a long record of securing favorable outcomes.
Wall Criminal Defense Lawyer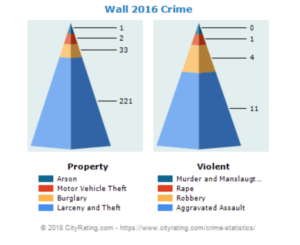 Wall is without question one of the busiest municipalities for filing and prosecuting municipal court offenses and indictable crimes in Monmouth County. Choosing the right criminal defense lawyer to handle a charge in this venue abundantly important. This is not a town where police roll over nor hesitate to make an arrest with every intention of following through on the violation. So if you want to have the best opportunity to escape the penalties and consequences that come with being found guilty, you need to hire an attorney who is skilled and knowledgeable in defending Wall cases. That is exactly what our Wall Township Criminal Firm can provide. Call our office at 732-449-2292 for a free consultation with a Wall defense lawyer.
Additional Wall Township Resources Pages & Posts To Assist You