Charged With Distribution of Marijuana, LSD, Cocaine, Ecstasy, Xanax, Heroin or Another Drug in Wall New Jersey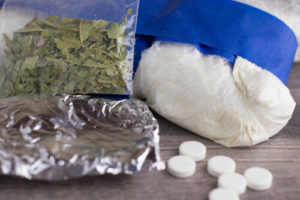 Our Former Prosecutors Are Ready To Defend Your Charge For Distributing, Selling or Possession With Intent to Distribute
An extremely serious offense that frequently arises in Wall New Jersey is distribution of CDS such as marijuana, cocaine, LSD, ecstasy, xanax and heroin. If you were arrested and charged with distributing or possession with intent to distribute drugs in Wall Township, you better select a skilled attorney to defend you. Attorneys who have considerable experience and a track record of success like those at our firm, The Law Offices of Jonathan F. Marshall are going to be able to give you the best chance of avoiding jail and other penalties (i.e. those for a crime of the first degree, second degree, third degree or fourth degree under N.J.S.A. 2C:35-5). Our team of accomplished criminal lawyers include a former drug task force director and others who have been defending drug distributions charges at the Monmouth County Superior Court in Freehold for decades. To speak to a lawyer with the tools to succeed on your behalf, contact our Wall Office anytime 24/7. Initial consultations with the lawyers on staff are free and they can be reached immediately at 732-449-2292.
Distribution Charge Under 2C:35-5 in Wall Township New Jersey
N.J.S.A. 2C:35-5 applies to a charge for distributing, selling or possession with intent to distribute drugs/cds. Separate offenses for distribution in a school zone or public park zone apply under 2C:35-7 and 2C:35-7.1. You should also know that 2C:35-10.5 applies when the offense involves prescription legend drugs like Oxycodone, Hydrocodone, Suboxone, Valium, Xanax, Adderall, Vicodin and Percocet.
It is illegal under 2C:35-5 to knowingly distribute, sell or possess a controlled dangerous substance without a license to do so. The penalties for violating this law hinge on the type and quantity of drugs being sold. Five ounces or more of heroin, cocaine, methamphetamine or MDMA (e.g. Molly or Ecstasy), 100 milligrams or more of LSD or 25 pounds or more of marijuana is a first degree crime punishable by a fine of up to $500,000 and 10-20 years in prison. If is a second degree crime to distribute at least one half ounce but less than five ounces of cocaine, MDMA, heroin or methamphetamine, less than 100 milligrams of LSD, 100 dosage units or more of prescription drugs (e.g. Xanax, Oxycontin, etc.) or at least 5 pounds but less than 25 of marijuana. The standard penalties for this grade of drug or cds distribution include 5-10 years in prison and a fine of up to $150,000. Third degree distribution applies where someone is selling less than one half ounce of MDMA, heroin, methamphetamine or cocaine, at least 5 but less than 100 dosage units of a prescription drug and at least one ounce but less than 5 pounds of marijuana. The penalties imposed for third degree possession with intent to distribute include a fine of up to $75,000 and up to 5 years in prison.
In addition to the penalties previously outlined, an individual faces a mandatory driver's license suspension of 6-24 months upon conviction for distributing CDS.
Pretrial Intervention is a program that allows a first time offender facing a third degree or fourth degree crime for drug distribution to avoid a criminal record and other penalties that would otherwise apply. The eligibility requirements for the program are strict so it is always advisable to consult an attorney if you would like to seek this relief.
Drug Distribution Attorney in Wall New Jersey
Drug distribution is a serious matter and should best be left to the services of a knowledgeable defense attorney. This is exactly what we can provide to you at The Law Offices of Jonathan F. Marshall. Our team of veteran criminal lawyers have the familiarity with the court system and skill in distribution cases to achieve the result you need. For a free consultation with a lawyer immediately, call 732-449-2292. Attorneys are available around the clock to assist you.
Related Wall NJ Legal Resource Pages & Posts