Resisting Arrest Charge in Wall New Jersey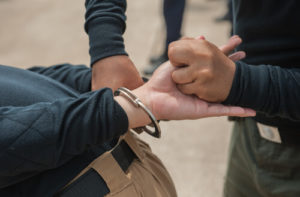 The Former Prosecutor Of Wall Is Ready To Assist You
A resisting arrest offense in Wall Township New Jersey is something that our attorneys encounter much more often than you might expect. The charge can result from many scenarios, even just pulling your arm away, although it is most frequently in tandem with a Wall NJ Assault Charge involving a police officer. Whether you were charged with resisting arrest in Wall New Jersey in this type of situation or under a much more different set of facts, selecting the right lawyer to defend you is imperative.
We are The Law Office of Jonathan F. Marshall, the largest criminal defense firm in the county with an office right in Wall. The lawyers on our staff have over a century of experience defending charges in Wall Municipal Court and at the Superior Court in Freehold and our staff even includes two members who have served as a prosecutor in Wall. To speak to an attorney in a free consultation anytime 24/7, contact our Wall NJ Office at 732-449-2292.
Wall Resisting Arrest Offense Under N.J.S.A. 2C:29-2
The criminal statute that sets forth the offense of resisting arrest is N.J.S.A. 2C:29-2. This law applies if an individual "purposely prevents or attempts to prevent a law enforcement officer from effecting an arrest." Typically, this conduct will result in a disorderly persons offense that falls under the jurisdiction of Wall Municipal Court. A resisting arrest charge is enhanced to a fourth degree crime when flight is used to avoid arrest and a third degree crime if the accused:
"(a) Uses or threatens to use physical force or violence against the law enforcement officer or another; or (b)Uses any other means to create a substantial risk of causing physical injury to the public servant or another."
The most important thing to remember about resisting arrest is that there is no right to resist whether the the arrest is unlawful or not. In other words, you have an obligation to submit to an arrest by the Wall Township Police even if there is no valid legal basis for their conduct.
Penalties for Resisting Arrest in Wall That Need To Be Avoided
The severity of the penalties for resisting arrest hinge on whether the charge is a disorderly persons offense, fourth degree crime or third degree crime. As previously stated, your case will be heard in Wall Municipal Court if it is for a disorderly persons offense for resisting arrest. When the offense is for fourth degree resisting arrest, as well as third degree resisting arrest, the violation falls outside municipal court jurisdiction and must be dealt with at the Monmouth County Superior Court in Freehold New Jersey. This is the court that has authority to deal with indictable criminal offenses such as a third degree crime or fourth degree crime for resisting arrest filed in Wall New Jersey. The penalties for a fourth degree crime of resisting arrest includes a fine of up to $10,000 and up to 18 months in the Monmouth County Jail. A third degree crime for resisting arrest, the highest grade set forth under 2C:29-2a, can result in 3-5 years in prison and a fine of up to $15,000.
Diversion of a Wall NJ Resisting Arrest Charge
There are two diversion programs that can potentially come into play when someone is facing a Wall NJ resisting arrest charge. Conditional dismissal applies to a disorderly persons offense in Wall Municipal Court and Pretrial Intervention to a third degree or fourth degree crime for resisting arrest. Both programs are limited to first time offenders and require successful completion of a period of probation. The criminal charge is dismissed without a conviction in the event that the requirements of the programs are met.
Expungement of Your Wall Resisting Arrest Offense
New Jersey law allows someone to secure removal (a.k.a. sealing) of a conviction for resisting arrest. There is a five year waiting period and other eligibility requirements that must be met to secure this relief. The lawyers on our staff can assist you in obtaining an expungement or diversion.
Statute of Limitations for Filing a Charge for Resisting Arrest in Wall New Jersey
The statute of limitations for filing a felony charge for resisting arrest in Wall New Jersey is 5 years. The deadline for filing a disorderly persons offense for resisting arrest is limited to 1 year.
Resisting Arrest Attorney in Wall NJ
We assume that you were arrested and charged with resisting arrest in Wall NJ given your attention to this article. Unfortunately, this offense arises much more frequently in the experience of our lawyers than clients would prefer. The important thing is that you immediately retain a seasoned Wall Criminal Attorney if you are up against this charge since they will be able to provide you with the best opportunity to avert a conviction. Attorneys at The Law Offices of Jonathan F. Marshall have this pedigree with over a century of work in Wall, as well as at the Monmouth County Superior Court. If you would like to take advantage of a free consultation with a lawyer in Wall Office, call 732-449-2292.
Related Wall Township Resources To Assist You