Motor Vehicle Offense For Speeding, Reckless Driving, Driving While Suspended, Leaving the Scene of an Accident, Driving Without Insurance or Another Traffic Violation in Wall New Jersey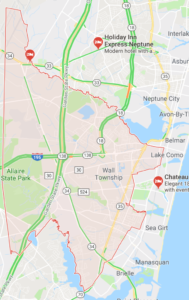 Call Our Wall Office To Speak To The Former Prosecutor Of Wall Township
Wall New Jersey has one of the busiest municipal courts in Monmouth County with over 12,000 tickets for moving traffic violations issued there every year. The largest number of motor vehicle summonses involving speeding, careless driving, reckless driving, driving while suspended, leaving the scene of an accident and driving without insurance. Possession of cds in a motor vehicle in Wall is another offense that arises at a high frequency. Irrespective of the nature of the charge you are facing in Wall Municipal Court, you would be best served in retaining a knowledgeable defense attorney as soon as possible as a conviction will have far more significant ramifications than you might think.
Here at The Law Offices of Jonathan F. Marshall, our lawyers are highly skilled in defending traffic tickets in the town as members of a Wall NJ Criminal Firm that has routinely litigated cases there for decades. In fact, two of the attorneys on our staff have served as prosecutor in the municipality – most recently Matthew Dorry. If you have been charged with a motor vehicle violation in Wall Township, we have the goods to see that you have the chance you deserve to avoid a conviction, points on your license, fines, possible license suspension and even jail. Contact our Wall Office anytime of day or night for a free consultation from a lawyer that can fully protect your driving privileges. Lawyers can be reached immediately at 732-449-2292.
Motor Vehicle Charges in Wall New Jersey
There are a slew of charges contained in the New Jersey Traffic Code that someone can be issued a ticket or summons for in Wall New Jersey. As previously stated, some offenses occur more often than others. The following are major motor vehicle charges in terms of occurrence in Wall Municipal Court:
Careless Driving
Improper Passing
Reckless Driving
Failure to Report an Accident
Driving While Suspended
Tailgating
Speeding
Failure to Obey a Traffic Safety Device (e.g. Stop Sign, Traffic Light, etc.)
Driving Without Insurance
Leaving the Scene of an Accident
Possession of CDS in a Motor Vehicle
All of these violations carry with them the assignment of points by NJDMV upon conviction. For example, 4 points are imposed for improper passing and speeding 15-29 miles per hour over the limit. Tailgating, reckless driving, racing and speeding over 30 MPH over the limit result in 5 points. Once you accumulate 6 or more points on your license, you must pay motor vehicle surcharges in our to maintain your license. An accumulation of 12 points or more results in a suspension of driving privileges.
On top of points, you will be fined and face additional consequences if convicted for many traffic offenses. A conviction for a driving without insurance results in a license suspension of one year for a first offense and two years for a second offense. A second or subsequent conviction also triggers a 14 day county jail sentence. Similar ramifications apply for driving while suspended or revoked with a 10 day term of incarceration for a third or subsequent conviction for driving while suspended. You might also be surprised to learn that the mandatory minimum sentence for possession of CDS in a motor vehicle is two years.
Wall Motor Vehicle Summons Defense Attorney
The ramifications of a Wall motor vehicle summons can clearly be significant so it is important that you take advantage of the opportunity to speak to a defense attorney at our firm. They will gladly take the time to review your case and provide a skilled recommendation for defending your charge. You can trust in our advice as lawyers that have handled thousands of traffic charges in Wall Municipal Court. To obtain a free consultation with a lawyer now, call 732-449-2292. Attorneys are available 24/7 to assist you.
Related Wall Township Legal Resource Pages & Posts