Simple Assault Attorneys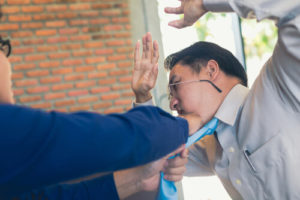 Simple Assault is the term used to describe the criminal offense outlined in N.J.S.A. 2C:12-1(a) of the New Jersey Assault Law. It is one of the most common charges encountered in Monmouth County Municipal Court. A complaint alleging simple assault arises out of a wide variety of altercations including incidents of domestic violence, an alcohol related confrontation (e.g. bar fight), and physical disputes between police and members of the public. While these types of cases are heard every day in municipal court, you definitely see a spike in the volume of individuals arrested for simple assault during the summer in Monmouth County, principally in beach towns like Manasquan, Belmar, Asbury Park and Long Branch.  The attorneys at our firm have extensive experience defending clients charged with simple assault throughout Monmouth County. If you are the subject of an assault charge in municipal court, it is certainly in your best interests to contact a skilled lawyer. The lawyer on the defense team of the Law Offices of Jonathan F. Marshall are certainly equipped to represent you. To obtain a free consultation with an attorney immediately, call 732-450-8300.
Simple Assault Offense Under N.J.S.A. 2C:12-1a
The offense of simple assault is set forth at 2C:12-1a. This statute provides that an individual commits simple assault if they: (1)  attempt, intentionally or recklessly cause bodily injury; (2) negligently cause bodily with a deadly weapon; or (3) engage in physical menacing in order to put another in fear of imminent serious bodily injury.
The headings below explain some of the more detailed aspects of a simple assault offense:
How Does The Prosecutor Convict Someone Of Simple Assault?  Unlike most crimes that require intentional misconduct, someone may be convicted of simple assault based on negligence. More specifically, the charge may be established where someone purposefully, knowingly or recklessly causes bodily injury to another; or where he or she negligently causes bodily injury with a deadly weapon. An attempt may also trigger criminal accountability under 2C:12-1(a) where an accused purposefully tries to cause bodily injury or where he puts another in fear of imminent serious bodily injury through physical menace.
What Fines Can Be Imposed For Simple Assault? The court may impose a fine of up to $1,000. Additional assessments must be applied upon conviction, including $75 for the Safe Neighborhood Fund, $50 for the Victims of Crime Compensation Board, and $33 in Court Costs. In accordance with N.J.S.A. 2C:43-2, the Court may also order payment of restitution.
Can I Be Put In Jail & Subjected To Other Penalties? The possibility of going to jail for up to six (6) months exists if someone is convicted of simple assault. The law also provides for imposition of probation and even suspension of an individual's drivers license.
Are There Different Grades Of Simple Assault? Simple assault is usually a disorderly persons offense. However, the case is reduced to a petty disorderly persons offense when it arises out of a fight or scuffle which involving mutual consent. The complaint may also be enhanced to an indictable crime, typically an Aggravated Assault, where someone is arrested for an assault on certain public officials, including police officers and teachers.
Domestic Violence Charges for Simple Assault. Commission of a simple assault constitutes a basis for a restraining order (i.e. incident of domestic violence) where the alleged victim is an unemancipated minor, spouse, former spouse, household or former household member or someone who is or was in a dating relationship with the accused.
Potential Defenses to a Simple Assault Offense. If you are arrested for simple assault, all defenses set forth under New Jersey law apply including self-defense and defense of others. Another defense that crops up is referred to as the de minimis infraction defense.
Lesser Included Offenses to Simple Assault. Even though an individual is found not guilty of simple assault, a judge can convict the individual of harassment as a lesser included offense under State v. Berka if the elements of that offense have been satisfied. Conversely, an aggravated assault may be downgraded to the lesser included offense of Simple Assault. An individual cannot be convicted of both the parent offense and the lesser included charge.
Charged With Simple Assault in Monmouth County New Jersey
As previously stated, simple assault falls within the category of a a disorderly persons offense under New Jersey Law. This is the equivalent of a misdemeanor but nonetheless results in your having a criminal record, in addition to the penalties previously described, if you are convicted. The potential consequences make this a matter worthy of your attention. So if you were charged with in simple assault anywhere in Monmouth County, including Atlantic Highlands, Howell, Tinton Falls, Wall, Holmdel, Manalapan and Lake Como, take the time to speak to a skilled simple assault lawyer at our office by calling 732-450-8300. Our attorneys would be happy to answer your questions or to set up an appointment in our local offices.
Additional Simple Assault Resource Pages