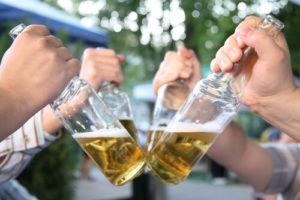 Belmar is one of the most popular Jersey Shore destinations for young adults interested in partying and nightlife. Those attracted to bars like D'Jais, the Boat House, Anchor and other venues include those under legal drinking age to gain access and possess alcohol legally. The Borough of Belmar also has its share of underage drinking in public places like the beach, in cars and at house parties. If you were charged with underage possession or consumption of alcohol, you need to know that you are facing a criminal offense that will leave you with a criminal record. An attorney is absolutely needed if you want to provide yourself with the greatest opportunity to avoid a conviction. The lawyers at Marshall & Bonus have decades of experience appearing in Belmar Municipal Court on behalf of individuals arrested for possession of alcohol underage and for Fake ID Charges in Belmar. A lawyer who has successfully handled countless disorderly persons offenses in the court is ready at our firm to help you avert this offense. Call 732-450-8300 to speak to one of our attorneys immediately.
Criminal Offense for Underage Possession or Consumption of Alcohol in Belmar New Jersey
It is illegal under N.J.S.A. 2C:33-15 to possess or consume alcohol when you are under the legal drinking age of twenty one (21) years old. Violation of this law is a disorderly persons offense, the equivalent of a misdemeanor, that becomes part of your formal criminal record if you enter a plea or are found guilty. The prosecutor in Belmar is required to prove certain fundamental elements before you can be convicted of violating 2C:33-15. They must establish that you possessed or consumed an alcoholic beverage, that you were underage at the time of the conduct and that you committed the offense in a public place, motor vehicle or school.
The penalties for underage drinking and alcohol possession in Belmar are stiff. You face a minimum fine of $500 and there is also the possibility of being incarcerated at the county jail for as much as six months. If the conduct occurred in a motor vehicle, there is also a mandatory driver's license suspension of six months. All of this is on top of a criminal record that will follow you for many years in the future.
Belmar Ordinance 16-23.2. Belmar has enacted a local ordinance violation to combat underage drinking on private property. This regulation, which is not criminal, prohibits knowing possession or consumption of alcohol on private property. While you are not left with a criminal record if you charge is amended to this offense, you will be fined and the municipal court judge has the ability to suspend your driver's license for six months whether a motor vehicle was involved or not.
Belmar Underage Drinking Lawyer
You definitely do not want to make the mistake of walking into Belmar Municipal Court with an attorney who has handled cases in the jurisdiction previously. A Belmar Criminal Lawyer at The Law Offices of Jonathan F. Marshall has extensive familiarity with the court system and practices that you can expect when you appear on an underage drinking offense. Attorneys at our firm will prove you with every opportunity to avoid a criminal record and have a rich history of achieving this goal is almost all underage alcohol cases we handle. To speak to one of the lawyers immediately in a free consultation, call 732-450-8300.
Related Belmar New Jersey Criminal Resource Pages & Posts