Criminal Trespass Offense in Belmar New Jersey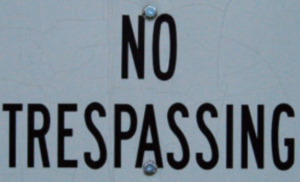 Former Prosecutors In Our Belmar Office Are Ready To Your Trespass Charge
Our criminal defense firm is the largest in Monmouth County and has an office right in Belmar so we have occasion to defend many trespass and related charges for disorderly conduct, obstructing the administration of law and resisting arrest in the borough every year. The most common scenario for a criminal trespass offense (a.k.a. defiant trespass) is someone who refuses to leave the premises of Bar Anticipation, McCann's, the Boathouse, D'Jais, Paul's Tavern or another local bar after being refused entry or removed from the establishment. The problem with this charge is that it is a misdemeanor crime that will leave you with a record that can cause significant negative consequences in the future. Thankfully, a lawyer at our firm can help you avoid a conviction for trespass if you have been charged in Belmar New Jersey.
Our firm, The Law Offices of Jonathan F. Marshall is comprised of nine criminal lawyers who have been defending clients in Belmar Municipal Court, including charges originating in Lake Como, and in courts throughout Monmouth County for over a century combined. We also happen to have a long relationship with the community as several attorneys on our staff have been residents of Belmar, as well as the adjacent community of Lake Como. Most of the members of our defense team also happen to be former prosecutors. All of our experience has translated in a long track record of escaping conviction on behalf of individuals arrested for criminal trespass in Belmar. Contact our Belmar Office today at 732-681-0080 to discuss how we can help you avoid a Belmar trespass charge.
Belmar NJ Criminal Trespass Offense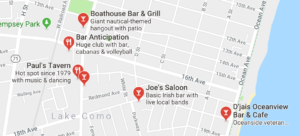 N.J.S.A. 2C:18-3 is the law that is triggered when someone is arrested or otherwise charged with a Belmar NJ criminal trespass offense. A summons for violating the ordinance against "Interference with Lawful Business Enterprise" frequently accompanies the trespass complaint. Charges for disorderly conduct, resisting arrest and obstruction can also arise in these settings when the encounter with the Belmar Police escalates.
An individual commits the offense of trespass under 2C:18-3 if they:
Enter a Structure Without A License. This variety of trespass typically occurs when someone sneaks back into a bar, party or establishment. The theory is that they haven't paid or are unauthorized because of lack of proper identification so they are committing trespass when they enter the property.
Defiant Trespass. The most common scenario for this charge is a defiant trespass. For example, Bar Anticipation requires two forms of picture ID and will not allow entry without this documentation whether you are actually over 21 years of age or not. When an individual refuses to leave the area after being requested to do so two times, he/she is arrested and issued a criminal complaint for trespass under N.J.S.A. 2C:18-3.
Peering Into Windows or Openings. This is a more rare variety of criminal trespass in Belmar but does occur on occasion.
Jurisdiction Over A Belmar Trespass Charge. It is important to remember that Lake Como no longer has a police department and that responsibility for public safety has been given to the Belmar Police Department. The same is true for Lake Como Municipal Court. All criminal, DWI and traffic charges are dealt with in Belmar Municipal Court.
Penalties for Trespass in the Borough of Belmar. Defiant trespass is typically a petty disorderly persons offense. What this means is that, in addition to a criminal record, you can be fined and sentenced to up to 30 days in jail upon conviction.
Lake Como Trespass Defense Attorney
Bars like D'Jais, Bar Anticipation and Paul's Tavern are located in Lake Como rather than Belmar so it is common for trespass charges to crop up in both Belmar and Lake Como. In fact, both municipalities have gone so far as to adopt an ordinance against interference with business enterprise. Irrespective of whether your summons says Lake Como or Belmar, the charges are essentially the same, originated from a Belmar police officer and will be heard at the Belmar Municipal Court. A defense attorney who is highly familiar with the venue, accustomed to working with the prosecutor and judge in the town and knowledgeable in defending criminal trespass is available at our firm to assist you. Here at The Law Offices of Jonathan F. Marshall, our lawyers have everything you are seeking in terms of experience, skill and commitment to avoid a criminal record so you can move ahead with your career without complication. Call us at 732-681-0080 to discuss your case with a lawyer who has extensive knowledge about the court system and how to secure the outcome you need. Attorneys are available 24/7 to assist your and the consultation is free.
Related Belmar & Lake Como Resource Pages & Posts To Assist You
Resisting Arrest Attorney in Belmar New Jersey
Lake Como Resisting Arrest Lawyers