Charged With Possession or Distribution of Cocaine in Howell New Jersey?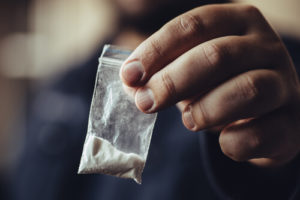 The Former Prosecutor of Howell & Drug Task Force Director At Our Firm Are Ready To Defend You.
If you are facing a cocaine charge in Howell New Jersey, the consequences can be serious whether the allegations involve distribution or personal possession. The offense always carries the potential for a prison sentence, a lengthy term of probation, thousands in fines, and perhaps the stigma of a felony conviction. This is why selection of the right attorneys to defend a cocaine possession or distribution of cocaine charge is so important.
Our firm, The Law Offices of Jonathan F. Marshall has a team of eight criminal lawyers that possess the experience and skill to help you. We have over 100 years of combined years in practice to utilize on your behalf whether you are charged with possession of a small amount of cocaine or manufacturing, distributing or dispensing a large quantity of cocaine. Our staff even includes an attorney who is former drug task force director and another who is a former prosecutor in Howell.
You are encouraged to contact our firm anytime 24/7 at 732-450-8300 to speak to a lawyer free of charge. Attorneys are available to discuss your Howell possession or possession with intent distribute cocaine offense 24/7.
Cocaine Charges in Howell New Jersey
In New Jersey, cocaine charges can be prosecuted as a first, second, or third indictable crime (all felonies), depending on the circumstances involved. The headings below outline what you are up against if you were arrested in Howell New Jersey for possessing cocaine for personal use or, worse yet, for purposes of selling, distributing or possession with intent to distribute.
Possession of Cocaine. Possession of cocaine for personal use is a third degree crime under N.J.S.A. 2C:35-10. This is a felony offense that can only be dealt with at the Monmouth County Superior Court in Freehold and carries possible penalties that include 3-5 years in prison, a fine of up to $35,000, a mandatory driver's license suspension for 6-24 months and a felony record.
Manufacturing, Distributing or Dispensing Cocaine. Whether you are charged with simple possession or manufacturing, distributing or dispensing cocaine, as well as, whether the charge will be graded as a first, second, or third-degree indictable offense will be decided based on the following factors: (1) The amount of cocaine involved; (2) How much money you had on you at the time of the arrest; (3) The possession of any scales or other paraphernalia used to weigh or cut drugs for distribution; and (4) How the cocaine was packaged – the presence of many small packages may indicate preparedness for distribution.
Manufacturing, distributing or dispensing cocaine is a first degree indictable offense if the amount of cocaine involved is 5 ounces or more. If convicted, you will face a mandatory prison sentence of 10-20 years and a fine of up to $500,000. In addition, you will be required to serve at least one-third of your sentence before you can be eligible for parole. The sale of cocaine is a second degree crime if the quantity involved is between .50 ounces and 5 ounces. If convicted, you will face a fine of up to $75,000 and/or be sentenced to prison for 5-10 years. Intent to distribute cocaine is a third degree crime if the amount of is less than one-half ounce. If convicted of this degree of charge, you may be sentenced to 3-5 years in prison and be required to pay a fine of up to $75,000.
In addition, you will have to pay $1,000, $2,000, or $3,000 in the form of a drug enforcement and demand reduction penalty upon conviction. What's more, if you commit the offense in a school zone, public housing project, or other public park zone in Howell, this could enhance all the penalties you will face if convicted.
If you have no prior convictions, you may be eligible for Pretrial Intervention (PTI) where you will be placed on probation for a period of time, after which, if you stay out of trouble, pass mandatory drug tests, etc., the charges will be dropped. However, PTI is only available to you once in your lifetime. Once you have used it, you will not be eligible for it again.
Howell NJ Cocaine Defense Lawyer
If you have been arrested on a cocaine charge in Howell, New Jersey, you are definitely facing severe penalties that include the possibility of a state prison term. Our cocaine attorneys will fight to reduce your charges to simple possession, suppress the drugs if the police committed an illegal search and seizure, and/or exclude any statements you made before you were read your rights. You can be confident that you are in excellent hands with our firm as our lawyers have over a century of experience defending distribution and personal possession of cocaine charges in Monmouth County. Never forget, even if you think that you are guilty, the burden is on the state to prove every element of the offense beyond a reasonable doubt and if they don't, you must be found not guilty. To speak to a lawyer who is prepared exhaust every effort to help you, contact The Law Offices of Jonathan F. Marshall. An attorney on our staff is ready to help you 24/7.
Related Howell Pages & Posts