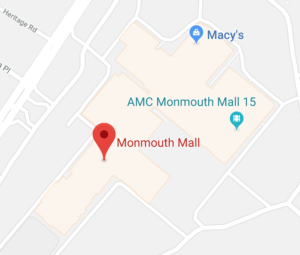 Shoplifting Arrest at Monmouth Mall in Eatontown New Jersey
Monmouth Mall is really the original (i.e. opened in 1960) when it comes to major shopping venues in the region. Our attorney know this well as not only residents of Monmouth County for decades but also as members of a criminal firm that is only a few miles from the mall and handles many of its shoplifting charges.  If were arrested at JCPenney, Lord & Taylor, Macy's, Boscov's or another retailer at Monmouth Mall in Eatontown, do not make the mistake of taking underestimating the impact of a conviction under N.J.S.A. 2C:20-11. A criminal record for theft can be devastating to your future so make sure you get proper advice from a knowledgeable lawyer before you get in too deep. The lawyers at our firm, the Law Offices of Jonathan F. Marshall, are ready to assist you 24/7. Call 732-450-8300 from a free consultation with one of our attorneys.
Monmouth Mall Information
Monmouth Mall is located at the intersection of N.J. Routes 35 & 36 in Eatontown Borough. In addition to anchor stores of Lord & Taylor, JCPenney, Macy's and Boscov's, the mall has entertainment attractions that include AMC Monmouth Mall 15 and Barnes & Noble. There are also several notable restaurants such as Bobby's Burger Palace, Buffalo Wild Wings, Chili's, Johnny Rockets, Ruby Tuesday and TGI Fridays. There are countless retailers that are also located within the 1,500,000 square feet of the mall. If you would like additional information regarding the property, you can refer to the official website here.
There Are Significant Penalties For Shoplifting at Monmouth Mall So Hiring The Right Attorneys Is Extremely Important
Failure to successfully defend a Monmouth Mall shoplifting offense can have serious ramifications above and beyond a record. You will be exposed to shoplifting penalties that include significant fines, probation, community service and even jail. For example, a third degree crime for shoplifting for stealing merchandise worth at least $500 but less than $75,000 can result in up to 5 years in prison and a fine of up to $15,000. And even a disorderly persons offense for shoplifting goods with a value of less than $200 can land you in the county jail for up to 6 months. A mandatory minimum term of incarceration of at least 90 days is also triggered upon conviction for a third or subsequent offense. All of this should be illustration enough for you to take the time to make sure that the attorneys you hire are accomplished in this area of law.
Contact Our Highly Skilled Eatontown NJ Shoplifting Defense Lawyers To Discuss Your Monmouth Mall 2C:20-11 Case
Our team of attorneys has been appearing at both the Eatontown Municipal Court and Monmouth County Superior Court for decades on behalf of individuals charged with shoplifting at Monmouth Mall. One of our Eatontown shoplifting defense lawyers is available to assist you in a free consultation anytime of day or night. Initial consultations with a lawyer are always with free of charge. Call us now at 877-450-8301 to speak to an attorney.
Additional Shoplifting Resources To Assist You
Shoplifting Offense at JCPenney
Home Depot of Eatontown Shoplifting Charge
Freehold Raceway Mall Shoplifting