Traffic Ticket For Speeding, Driving While Suspended, Reckless Driving, Driving Without Insurance, Leaving the Scene of an Accident, Possession of CDS in a Motor Vehicle or Another Summons In Asbury Park New Jersey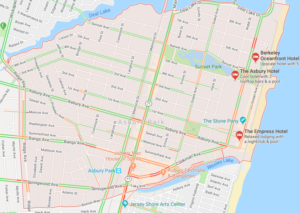 Contact Our Asbury Park Office To Speak To One Of Our Former Prosecutors
The most frequently filed offense in Asbury Park is a traffic ticket or summons. A motor vehicle violation can result from an extensive range of conduct including driving while suspended, reckless driving, speeding and driving without insurance. Whatever the charge you happen to be facing in Asbury Park Municipal Court under the traffic code, it is definitely in your best interests to retained a skilled Monmouth County Traffic Lawyer. The attorneys at our firm, The Law Offices of Jonathan F. Marshall are accomplished former prosecutors that have been defending clients against leaving the scene of an accident, possession of CDS in a motor vehicle and other traffic summonses for over a century combined. For immediate assistance from a highly experienced motor vehicle defense attorney. Lawyers are available around the clock at (732) 481-2303 to provide a free consultation.
Asbury Park Traffic & Motor Vehicle Offenses
The New Jersey Traffic Code contains a long list of charges that can result in issuance of a summons or ticket for a motor vehicle offense in Asbury Park. The offenses of greatest concern are moving violations because they result in points, fines, license suspension and sometimes even jail. The lawyers on our staff defend all traffic charges in Asbury Municipal Court, including:

Driving While Suspended or Revoked
Speeding
Reckless Driving
Driving Without Insurance
Leaving the Scene of an Accident
Possession of CDS in a Motor Vehicle
Improper Passing
Careless Driving
Tailgating
Almost every moving violation carries without it an assignment of points by the NJ Division of Motor Vehicles. An accumulation or 6 or more points results in surcharges. When someone reaches 12 points, their privileges to operate a motor vehicle are suspended.
In addition to imposition of fines and surcharges, some Asbury Park traffic violations result in automatic license suspension. For example, a motor vehicle summons for driving without insurance carries a one year suspension for a first offense and two years for a second offense. Possession of CDS in a motor vehicle results in an automatic suspension of two years for even a first offense. Driving while suspended carries an additional period of revocation of up to 6 months.
There are a few traffic charges that also result in jail. A third or subsequent DWI is certainly one of them with a mandatory term of 6 months. A third offense or worse for driving while suspended results in a 10 day jail sentence. A second offense or greater for driving without insurance triggers 14 days in jail.
Asbury Park Motor Vehicle Defense Attorney
If you were charged with an variety of traffic offense in Asbury Park, a motor vehicle defense attorney at The Law Offices of Jonathan F. Marshall is here to defend you. More importantly, our lawyers have a long track record of avoiding convictions for speeding, driving while suspended, driving without insurance and other charges. If you would like the opportunity to speak to one of our attorneys without obligation, contact our Asbury Park Office anytime 24/7. A lawyer is available now at (732) 481-2303 to help you.
Related Asbury Park Legal Resource Pages & Posts