Arrested or Charged With Eluding in Monmouth County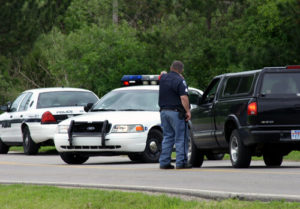 New Jersey has created the offense of eluding to prosecute those who attempt to flee and/or evade a motor vehicle stop. If the conduct to escape a stop creates a risk of death or injury to others, eluding is a second degree crime. Driving at a high rate of speed, weaving through traffic in an illegal or reckless manner, DWI, or driving with your lights turned off are typical examples of actions which police point to in order to enhance an eluding offense to a second degree. If you were arrested and charged with second degree or third degree eluding in Middletown, Tinton Falls, Manalapan, Hazlet, Aberdeen, Howell or another town in Monmouth County, our Freehold NJ Criminal Firm is here to assist you. The attorneys at The Law Offices of Jonathan F. Marshall include former prosecutors from this county who have defended hundreds of charges involving allegations of eluding police. An eluding offense defense lawyer is available 24/7 at 732-450-8300 or 732-462-1197 for a free initial consultation.
Eluding A Police Officer Charge Under N.J.S.A.2C:29-2
The offense of eluding is set forth at N.J.S.A. 2C:29-2. This statute makes it a crime to knowingly flee or attempt to elude police after receiving a signal to stop. There are five (5) elements which the Monmouth County Prosecutor's Office must prove in order to obtain a conviction. It must establish, beyond a reasonable doubt, that you:
Were operating a motor vehicle on a street or highway;
Were signaled by a police officer to stop your vehicle;
Knew that a police officer made a signal for you to stop; and
Knowingly fled or attempted to elude the officer.
If the flight or attempt to elude creates a risk of death or injury to any person then the violation is a second degree crime. There must be at least one person put at risk by the operation, including the accused himself, a police officer, individuals along the pursuit, as well as an occupants in the respective vehicles. Risk of death or injury may be inferred if the accused violated one or more motor vehicle laws during the course of attempting to flee or elude. Conversely, if the state is unable to convince a jury that the accused caused such a danger to others by virtue of his/her operation, then eluding is a third degree crime.
A conviction for second degree eluding carries a presumption of incarceration. What this means is that there is a virtual certainty of a state prison sentence for anyone found guilty of this variety of eluding. The range of imprisonment is 5-10 years. The No Early Release Act ("NERA") attaches to all second degree eluding offenses making it a requirement that a defendant serve at least 85% of any sentence imposed before they may be paroled. There is also a potential fine of $150,000 for second degree eluding. Third degree eluding results in a prison sentence of 3-5 years and a fine of up to $15,000. Both grades of eluding also carry a driver's license suspension of six to twenty-four months.
Eluding That Results In Injury
There is interplay between eluding and aggravated assault whenever someone sustains injuries during a chase and/or pursuit. It is an entirely separate second degree crime when bodily injury is caused to another while fleeing or attempting to elude the police. This charge carries a mandatory minimum term of imprisonment under N.J.S.A. 2C:43-6(i) which must be fixed at, or between one-third and one-half of the sentence imposed by the court. The combination of a second degree eluding that results in injuries is clearly a problematic scenario that requires a skilled defense lawyer like those at our firm.
Death Caused By Eluding The Police
When someone causes the death of another during an attempt to elude police, they face a separate charge for aggravated manslaughter. The key to prosecution of this offense is proof, beyond reasonable doubt, that the actions of the accused caused the death and that this was a probable consequence of the defendant's conduct. The offense of manslaughter is a lesser included crime that typically will be a fall back if the elements of aggravated manslaughter cannot be established.
Freehold NJ Eluding Offense Lawyers
All indictable criminal charges filed or indicted in Monmouth County are handled at the Superior Court in Freehold NJ. Our firm has been an active member of the defense bar of this county for over twenty years now and our team of criminal attorneys possess over 100 years of combined experience. We represent individuals arrested for eluding in towns throughout this area including Wall Township, Red Bank, Ocean, Neptune, Holmdel and Long Branch. An attorney on our staff will thoroughly analyze and dissect the allegations against you so that an effective defense can be formulated. This typically involves our gathering any and all evidence, including statements of witnesses, patrol car and independent videos, and radio transmissions to insure that your best defense is presented in court. To speak to one of our Freehold NJ Eluding Offense Lawyers immediately, call us anytime 24/7 at 732-450-8300 or 732-462-1197.