Charged With Distributing, Selling or Possession With Intent to Distribute Cocaine, LSD, Heroin, Mushrooms, Marijuana or Other CDS in Asbury Park New Jersey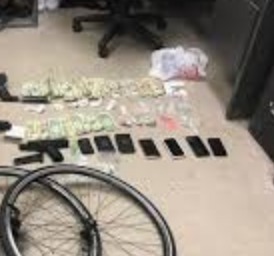 Contact Our Asbury Park Office To Speak To Our Former Drug Task Force Prosecutors
One of the most common categories of indictable crimes encountered by our lawyers in Asbury Park New Jersey is distribution of heroin, cocaine, LSD, mushrooms, marijuana and other drugs. If you were charged with distributing, selling or possession with intent to distribute controlled dangerous substances ("CDS") in the City of Asbury Park, hiring an experienced attorney is an absolute must.
We are The Law Offices of Jonathan F. Marshall, an eight lawyer criminal defense team. Most of the attorneys are former prosecutors, including one who is a former county drug task force director. We have defended many distribution and possession with intent to distribute cases at the Monmouth County Superior Court over the last several decades. Contact our Asbury Park Office for a free consultation with an accomplished attorney now.
Asbury Park CDS Distribution Charges
The severity of a CDS distribution charge under N.J.S.A. 2C:35-5 hinges on the type and quantity of CDS being sold, distributed or possessed with intent to distribute. You should also be aware that distributing heroin, cocaine, LSD, mushrooms, marijuana or prescription drugs like Xanax, Suboxone, Oxycodone, Valium, Hydrocodone, Pecocet or another medication in a school zone or public park zone results in an entirely separate and additional offense under N.J.S.A. 2C:35-7 or 2C:35-7.1. The following is a breakdown of the grading of a drug/cds distribution offense pursuant to 2C:35-5:
It is a first degree crime to distribute over 5 ounces of heroin, MDMA, cocaine or methamphetamine, over 100 milligrams of LSD or over 25 pounds of marijuana. The penalties for first degree distribution include a fine of up to $500,000 ($300,000 for marijuana and methamphetamine) and 10-20 years in prison.
Distribution is a second degree crime when it involves at least one-half ounce but less than 5 ounces of heroin, cocaine, MDMA/Ecstasy/Molly or methamphetamine, less than 100 milligrams of LSD, at least five pounds but less than 25 pounds of marijuana or 100 dosage units or more of a prescription drug such as Adderall, Vicodin or Oxycontin. The fine is up to $150,000 ($300,000 for prescription drugs) and the period of imprisonment is 5-10 years for second degree possession with intent to distribute CDS.
An individual faces a third degree crime for possession with intent to distribute if the case involves less than one-half ounce of cocaine, heroin, methamphetamine or MDMA, at least an ounce but less than 5 pounds of marijuana, or at least 5 dosage units but less than 100 doses of a prescription legend drug. Distributing cds in the third degree carries a fine of up to $75,000 ($25,000 for marijuana and $200,000 for prescription drugs) and 3-5 years in prison.
It is a fourth degree crime to distribute, sell or possess with the intention to distribute a quantity of less than five pills or dosages of prescription drugs or less than on ounce of marijuana. Fourth degree distribution of drugs results in a fine of up to $25,000 ($10,000 for prescription legend drugs) and up to 18 months in state prison.
You should also note that New Jersey has changed its bail law so that there is no ability to post a bond or sum of money to secure release prior to trial. You will appear before a Monmouth County Superior Court judge within 48 hours of arrest. If the prosecutor files to detain you, you will automatically be held pending the outcome of a detention hearing which occurs within 5 days of receipt of the motion to detain. It is exceptionally important that you immediately secure representation from a savvy lawyer if you were arrested for distributing drugs in Asbury Park since it is common for prosecutor's to file a motion to detain. You may also be interested in enlisting a knowledgeable attorney to not only defend this and other proceedings but also to apply you for Pretrial Intervention.
Asbury Park CDS Distribution Defense Lawyer
Asbury Park is one of the higher crime municipalities in Monmouth County so it naturally follows that it has more CDS distribution activity than most communities in the region. The attorneys on our staff are well aware of the fact as members of the largest criminal defense firm in Monmouth County and central New Jersey. This considerable experience, including time serving as county prosecutors, has afforded our lawyers with invaluable incite to help our clients. An attorney at The Law Offices of Jonathan F. Marshall is prepared to provide a no obligation consultation to explore all of the issues involved in you Asbury Park drug distribution case. Call us anytime 24/7 to speak to a lawyer immediately.
Related Asbury Park Pages & Posts To Assist You