Charged With Resisting Arrest in Middletown New Jersey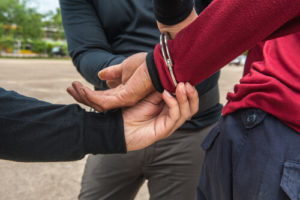 Contact Our Middletown Office To Speak To One Of Our Former Prosecutors
Middletown is the most populated municipality in Monmouth County and also has one of the largest police departments so it only makes sense that it ranks near the top for resisting arrest charges. Our lawyers are sensitive to this fact as members of the largest defense firm in the region who having been defending criminal offenses like Middletown resisting arrest, disorderly conduct and obstructing for over 100 years combined. An attorney who is well versed in the law and highly experienced in working in Middletown Municipal Court and the Monmouth County Superior Court is available for a free consultation around the clock. To obtain the information and guidance you deserve from an accomplished lawyer, call 732-615-0039. Attorneys are available immediately to assist you in our Middletown Office.
Defending A Middletown Resisting Arrest Offense
The easiest way to gain a working knowledge regarding the Middletown resisting arrest offense you are facing is to review the law that applies to the charge. N.J.S.A. 2C:29-2a, which embodies the New Jersey Resisting Arrest Law, provides that:
"(1) Except as provided in paragraph (3), a person is guilty of a disorderly persons offense if he purposely prevents or attempts to prevent a law enforcement officer from effecting an arrest. (2) Except as provided in paragraph (3), a person is guilty of a crime of the fourth degree if he, by flight, purposely prevents or attempts to prevent a law enforcement officer from effecting an arrest. (3) An offense under paragraph (1) or (2) of subsection a. is a crime of the third degree if the person: (a)Uses or threatens to use physical force or violence against the law enforcement officer or another; or (b)Uses any other means to create a substantial risk of causing physical injury to the public servant or another. It is not a defense to a prosecution under this subsection that the law enforcement officer was acting unlawfully in making the arrest, provided he was acting under color of his official authority and provided the law enforcement officer announces his intention to arrest prior to the resistance."
As you can see, an individual must engage in conduct intended to prevent an arrest in order to violate 2C:29-2. When the conduct involves running or another form of flight except eluding with a motor vehicle, resisting results in a fourth degree crime. Using threats, force or other conduct that creates a substantial risk of injury to others, including a Middletown police officer, results in a third degree crime. Resisting arrest under any other circumstance is a disorderly persons offense.
When the Middletown criminal charge for resisting arrest involves a crime of either the third degree or fourth degree, the offense is indictable and must be transferred to the Monmouth County Superior Court in Freehold. A disorderly persons offense for resisting arrest in Middletown is a misdemeanor that falls under the jurisdiction of the Middletown Municipal Court.
If you are convicted of a disorderly persons offense for resisting arrest, you face a fine of up to $1,000 and up to 6 months in the county jail. A fourth degree resisting arrest carries a fine of up to $10,000 and the possibility of up to 18 months in prison. A third degree resisting arrest results in 3-5 years in state prison and a fine that can reach $15,000.
Resisting Arrest Defense Lawyers in Middletown
The ramifications of Middletown resisting arrest charge can be significant if you are convicted. You will have a criminal record and face penalties that can impact your life severely. Selecting the best attorney you can find is a huge help in avoiding these consequences. Here at The Law Offices of Jonathan F. Marshall, our defense lawyers are seasoned litigators who know the ins and outs of successfully battling a resisting arrest in Middletown. To learn more about what a highly knowledgeable lawyer at the firm can do for you, contact us at your earliest convenience. One of the attorneys is ready to take your call 24/7.
Related Asbury Park Criminal Resource Pages & Posts That May Interest You
Middletown NJ Obstructing the Administration of Law Attorney