Charged With Underage Possession or Consumption of Alcohol in Manasquan New Jersey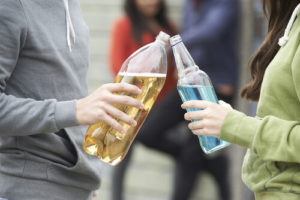 Manasquan has a keen understanding of the underage alcohol possession and consumption that goes on in the borough, particularly during the summer rental season. It has adopted an elaborate set of local regulations, in addition to N.J.S.A. 2C:33-15, to snuff out Manasquan underage drinking and use of fake identification in Manasquan to gain access to bars like the Osprey, Leggetts and the Manasquan Boat House. If you were arrested for possessing or being under the influence of alcohol because you are under legal drinking age (i.e. twenty-one years old), you need to hire a lawyer who is skilled in defending minors in possession of alcohol cases in Manasquan New Jersey.
The attorneys at our firm have handled countless underage alcohol violations in Manasquan over the years. Our defense team, which includes numerous former prosecutors, can help you escape a criminal record for underage drinking just like the overwhelming percentage of clients we have previously represented in Manasquan Municipal Court. If you or a loved one was charged with underage possession of alcohol or consuming/drinking when they are under 21 years old, an attorney is ready to discuss how we can help. Contact us now at 732-450-8300 for an immediate free consultation.
Manasquan Underage Alcohol Possession Charge Under N.J.S.A. 2C:33-15
The New Jersey law that addresses underage alcohol possession and consumption is N.J.S.A. 2C:33-15. In accordance with this statute, anyone who knowingly possesses or consumes an alcoholic beverage in public or in a motor vehicle when they are under 21 years old may be convicted of a disorderly persons offense. The penalties for this violation include a potential fine of $1,000 and the possibility of probation, alcohol education counseling and even jail. If the violation was committed in a car, truck or other motor vehicle, there is also a mandatory revocation of driving privileges for at least six (6) months. All of these consequences are in addition to the criminal record that comes with a conviction for a disorderly persons offense.
Underage Drinking Violations Contrary to Manasquan Ordinance 6-8
As previously stated, Manasquan has enacted local laws to regulate underage alcoholic charges that apply in addition to 2C:33-15. These regulations are contained the borough ordinance book under Title 6-9. Ordinance 6-9.1 renders it unlawful "for any person under the legal age to, without legal authority, knowingly possess or knowingly consume an alcoholic beverage on private property." A violation of this section results in the penalties set forth under 6-9.2 including a fine of $250-$350 and a suspension of driving privileges for six (6) months irrespective of where the violation occurred (i.e. does not have to happen in a car).
Defending an Underage Drinking Offense in Manasquan
There are many viable defenses to an underage drinking or possession offense in Manasquan. An individual must knowingly possess or consume the substances in order for a 2C:33-15 violation to be sustained. There is also a good samaritan defense where police are contacted because of fear that a minor is in destress. Moreover, even when a viable defense is lacking, our attorneys almost always can secure a downgrade of a minor in possession of alcohol charge downgraded to an ordinance. This allows our client to avert a criminal record and simple pay a civil penalty.
Manasquan NJ Underage Alcohol Possession Attorneys
Although you may have taken your underage alcohol possession charge lightly when it was initially issued, we hope it is now clear that it can cause big problems if you fail to secure the services of an attorney who is accomplished in defending this offense in Mansquan Municipal Court. This is the role that the lawyers at The Law Offices of Jonathan F. Marshall are well suited to serve on your behalf. We have a long history of dodging convictions for Manasquan underage drinking. To learn how a lawyer at the firm can help you or your child in a similar manner, call our firm 24/7.
Other Manasquan Pages & Posts To Assist You