Former Prosecutors & Residents of Manasquan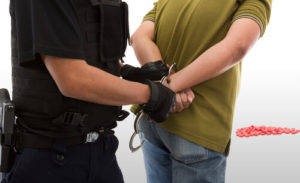 Resisting arrest is a much more common offense in Manasquan NJ than you might believe. A primary reason is because almost anything short of complete and unconditional compliance with police exposes you to a N.J.S.A. 2C:29-2 charge ("Resisting Arrest; Eluding Officer"). This is the case even if the police lack a valid basis to arrest you in the first place. Resisting arrest charges are often filed in combination with an obstruction, simple assault and/or disorderly conduct charge in Manasquan. This is a fairly common scenario that you will find in Manasquan Municipal Court, especially during the summer.
Our firm, The Law Offices of Jonathan F. Marshall is highly adapt in defending disorderly persons offenses like these in Manasquan. In fact, most of the attorneys on our staff have long time ties in the town, even having been residents in the Borough. One of the former prosecutors at our firm with years of experience appearing in Manasquan is prepared to assist you.
Resisting Arrest Charge in Manasquan NJ
As previously stated, N.J.S.A. 2C:29-2 is the NJ Law that governs the offense of resisting arrest. While there are numerous grades of this charge that can arise under 2C:29-2, only the disorderly persons offense variety can be heard in Manasquan Municipal Court. This occurs when an individual "purposely prevents or attempts to prevent a law enforcement officer from effecting an arrest." A conviction carries a maximum fine of $1,000 and up to six months in the county jail. If the conduct involves use or threats of force/violence against the officer or creates a substantial risk of physical injury to the officer, the violation escalates to a third degree crime. This grade of resisting arrest is heard exclusively at the Monmouth County Superior Court and conviction results in a potential fine of $15,000 and up to 5 years in state prison.
Ordinance Violation for Resisting or Hindering Manasquan Police
A complaint or ticket for resisting arrest can also arise under Title 3-8 of the Manasquan Municipal Code. There are basically two ordinances that apply in instances like these and they are:
3-8.1 Resistance, Hindering or Abusing Police Officers or Municipal Employee. It shall be unlawful for any person to resist, hinder, obstruct or abuse any Police Officer, municipal employee or lifeguard while engaged in the lawful performance of his official duties in the Borough.
3-8.2 Fleeing from Police Officers and Lifeguards. It shall be unlawful for any person to flee from any Police Officer or lifeguard after being directed by any such Police Officer or lifeguard, in the exercise of his officials duties, to halt; or to flee from any such Police Officer or lifeguard for the purpose of avoiding arrest.
Manasquan Resisting Arrest Attorney
A resisting arrest violation has the ability to snowball out of control. Police officers can become extremely aggressive on both the street and in court if they misinterpret an individual's conduct as resistance. This is why it is so important to retain an attorney with the experience and finesse to persuasively deal with the police, not to mention the prosecutor and judge. This level of skill is possessed by the former prosecutors at our firm. Let us put these abilities to work for you.
Other Manasquan Criminal Offense Resource Pages